Mass protest: no to Tommy Robinson, no to Brexit
This is an emergency. On December 9th, we must mobilise in massive numbers – say no to the far right, and say no to Brexit.
23rd November 2018
---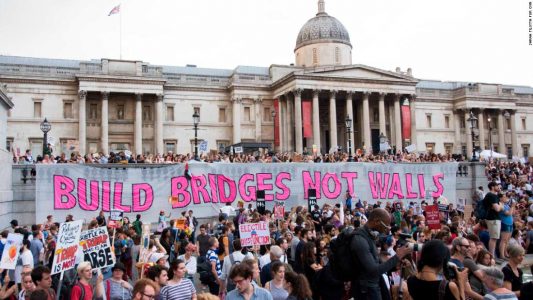 Join the Facebook event
here
. Share and invite everyone you know.
On December 9th, the day before parliament votes on Theresa May's deal, the far right will march on London under the banner of "Brexit Betrayal". We will mobilise, in massive numbers, to combat their message of hate and division.  And we will demand a serious alternative: a society that works for everyone, and a final say for the people on Brexit.
In the face of this moment, it is not enough to simply oppose racism in the abstract. Brexit is being used to attack migrants, end free movement, deregulate the economy, divide communities and legitimise racism in the political mainstream. It is driven at its core by the British wing of a movement that includes Donald Trump, Jair Bolsonaro, Marine Le Pen and Geert Wilders, among others.
Tommy Robinson is not just using Brexit as a tool to attract followers. Brexit has from its earliest days been driven by the far right, and the far right will benefit from it for decades to come unless we defeat it and the conditions on which it feeds.
The far right is growing because the economic and political system has failed us. We need decent homes and jobs, we need a transformation of the economy that gives people control over their destinies.
On December 9th, we will rally in Parliament Square. Join us to demand:
Vote down the Brexit deal

Give the people a final say

Stop the far right – defend free movement
Manuel Cortes, TSSA general secretary
Mike Galsworthy, Scientists for the EU
Amelia Womack Deputy Leader of the Green Party
Peter Tatchell, human rights campaigner
Michael Chessum, Another Europe is Possible
Nick Dearden, Global Justice Now
Marina Prentoulis, senior lecturer at UEA
Shaista Aziz, Oxford unites as an anti-racist city and Stop Trump campaigner
Hugh Lanning, former general secretary of PCS
Paul Mackney, formber UCU general secretary
Joseph Healy, Left Unity principal speaker
Niccolo Milanese, European Alternatives
Simon Hannah, author and Lambeth UNISON joint Secretary
Neil Faulkner, archaeologist and historian
Daniel Randall, RMT activist (pc)
Don Flynn, migrants rights campaigner
Cllr Graham Campbell, SNP BAME Convenor and SNP Trade Union Group