Buy the Another Europe Is Possible t-shirt!
If you buy at the solidarity price you'll help fund the campaign with a positive vision for a different kind of Europe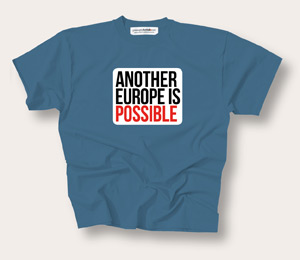 TO BUY THE T-SHIRT PLEASE GO TO THE PHILOSOPHY FOOTBALL WEBSITE

Another Europe is Possible? Think of football and we see an England, Britain as well, that is thoroughly Europeanised. The players, manager and coaching staff, the owners and investors, shirt sponsors and pitchside advertisers, the fans in the stands and those watching on TV in a bar or back home. And of course the competitions we want our clubs to qualify to play in too. Is this Europeanisation perfect? No, but despite that most of us wouldn't have our football any other way. Same goes for the food we eat, the beer and wine we drink, the music we listen to, the fllms we watch, the fashions we wear, the places we go for a holiday. All of this is our single European currency, not a faceless institution or a banknote in our pocket, but a culture we're part of, not apart from.
So why walk away when we can be in Europe to change it? With others too from every other Europrean nation who share that ambition. The Philosophy Football t-shirt is produced to support the Another Europe campaign at a special not-for-profit price of just £12.99. If you can, do buy at the solidarity price with the extra £5 from each shirt sold going to help fund the campaign.
Unisex sizes small (36inch chest/90cms), medium (40inch/100cms), large (44inch/110cms), XL (48inch/120cms) and XXL (52inch/130cms).Plus! Women's fitted style (34-36inch chest/70-90cms/ size 12). Available as listed in the drop down menu below.
Gift and wrap service. With exclusive Philosophy Football wrapping paper and gift tag. To personalise your gift type your message in the box provided. Buy the t-shirt now from the Philosophy Football website.