The biggest rally of the In campaign, hosted by Another Europe is Possible, DiEM25 and openDemocracy, is coming up this Saturday. Space is limited: you must register here to attend. Here are all the speakers and sessions for the day.
The event is being livestreamed by openDemocracy – tune in here on the day.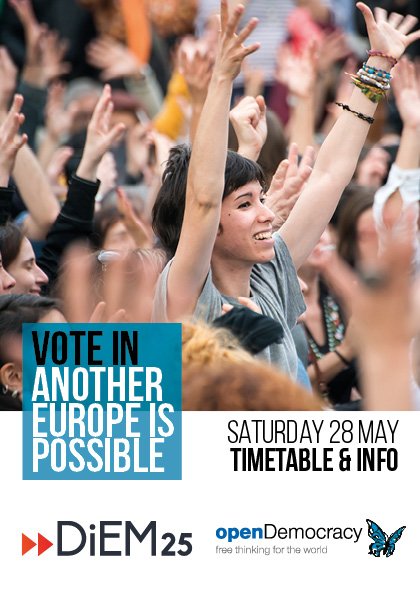 You can also download our booklet with even more information about the event. Copies will be available on the day.
Opening rally
11–12.15
Logan Hall
Yanis Varoufakis, DiEM25
Caroline Lucas, Green Party MP
Owen Jones, author and activist
Clive Lewis, shadow climate minister
Anthony Barnett, openDemocracy
Sirio Canós Donnay, Podemos
Neal Lawson, Compass
Participatory discussion
12.15–12.45
Logan Hall
A chance for attendees to hold group discussions and feed in their thoughts and ideas.
Breakout sessions
13.15–14.30
There are five parallel sessions in various rooms – see below for details.
Practical organising
15.00–16.00
An interactive session with skill-sharing and practical planning. You'll be put into a group randomly chosen by the sticker colour on the front of your event booklet.
Closing rally
16.15–17.00
Logan Hall
John McDonnell, shadow chancellor
Zoe Gardner, migrants' rights activist
Matt Wrack, FBU general secretary
Caroline Hill, Young Labour chair
Take action!
17.00
Join us after the event for a mass leafleting of Euston station – just follow the crowd and you'll get there. (It's around 5-10 mins walk.)
Breakout sessions
13.15–14.30
Corporate power and workers' rights
Logan Hall
Nick Dearden, Global Justice Now
Dave Ward, CWU general secretary
Katia Widlak, Unison Polish Workers Network
Nick Mathiason, financial journalist
Democracy in Europe Movement 2025 (DiEM25)
Jeffrey Hall
Yanis Varoufakis, DiEM25
James Schneider, Momentum
Zoe Gardner, migrants' rights activist
Mary Kaldor, professor of global governance, LSE
Sirio Canós Donnay, Podemos
Human rights and equality
Elvin Hall
Clare Coatman, Compass
Michael Mansfield, campaigning barrister
Omar Khan, Runnymede Trust
Migration and refugees
Drama Studio
Muzna Al-Naib, Syrian activist
Karolina Partyga, Polish student activist
Joseph Watfa, Football Beyond Borders
Environment
Nunn Hall
Asad Rehman, Friends of the Earth
Amelia Womack, Green Party deputy leader
Sheila Menon, Heathrow 13
25th May 2016