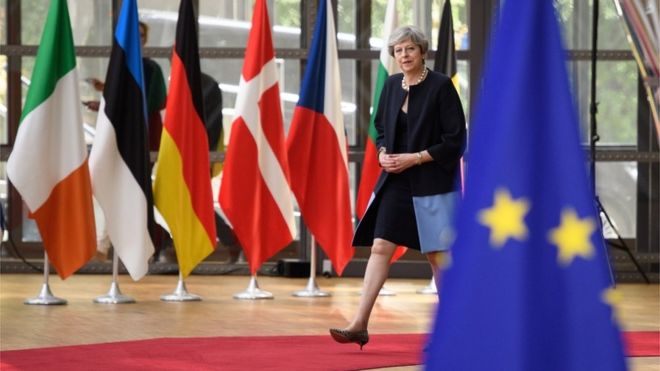 Theresa May has outlined what she describes as a "fair and serious" offer for protecting the rights of 3 million European citizens currently living in the UK after Brexit. Much like her claim to provide "strong and stable" leadership, this claim is nonsense.
Here are just five reasons why.
1. People are still being treated as bargaining chips
The moment Brexit happened, there was an easy option for dealing with European migrants living in the UK – unilaterally guarantee their right to remain with current rights. This option has been discussed both by David Cameron's cabinet in the immediate aftermath of the referendum and in the House of Commons when Labour proposed an amendment to the Article 50 Bill in March 2017.
Instead, rather than taking the rights of migrants as an issue of principle – an approach which the EU would almost certainly have reciprocated – Theresa May is making any guarantees conditional on a reciprocal agreement on the rights of British citizens in the EU. People are being treated as bargaining chips.
This approach will produce a worse outcome both EU citizens in the UK and UK citizens in the EU. Not only will the future continue to be uncertain until a deal is reached, but, as we outline below, the rights and requirements of May's proposal are substantially worse than the status quo.
2. You will need to have lived in the UK for 5 years to qualify
Under the proposals outlined by May, EU citizens would be able to qualify for "settled status", but only if they have already been resident in the UK for five consecutive years.
This means that if you haven't already lived in the UK for 5 years you will have to remain in the UK until you reach that threshold. If you choose to leave the country before that time, even if only temporarily, it is not clear if you will qualify.
It is also not clear what kind of residency will be required for these five years – and whether or not, for instance, being a fulltime student will count as being resident. The residency rights in May's proposal are worse than the status quo, and it is harder to get them.
3. You might not qualify at all – depending on when you arrived
Between the triggering of Article 50 in March 2017 and 'Brexit Day' in 2019, large numbers of European citizens will have migrated to the UK, made homes and built lives.
Theresa May's proposal offers these people very little reassurance. Instead of placing a cut-off date for residency rights (from which migrants can then build up 5 years of residency) on Brexit Day, May has indicated that it will be at an undefined point between the two dates.
And if you don't qualify, you'll have two years to get a visa or leave the country.
4. Your rights will be worse
It is unclear exactly what the rights of someone with "settled status" will be. Government sources say that it will include lifetime access to the NHS, benefits, pensions, and so on.
But no-one is talking about settled status in terms of it endowing the same rights that European citizens currently enjoy, which includes, for instance, the right to vote in some elections.
There is also a danger of family break up. Currently, a Polish citizen could bring their family to live in the UK with no obstacle, but it is not clear if they would be able to do so freely after Brexit, even if they had acquired settled status.
5. Rights could be axed retrospectively
Under proposals outlined by the EU, the rights of European citizens would be enforced by the European Court of Justice (ECJ), as would the rights of British citizens living in the EU. This would give a common legal framework to the rights, and make them harder to erode from Westminster.
Theresa May has rejected this – stating that Britain would enforce the any agreement with its own court system. Without the jurisdiction of the ECJ, it is possible that a future government could strip European migrants of their rights, or introduce new restrictions retrospectively.
–
Another Europe is Possible is fighting for a simple demand – that all EU citizens should be given the right to remain in the UK and to keep their current rights. This demand is supported by all major party leaders – except Theresa May.
We'll be relaunching our Home is Here campaign in the coming weeks to keep up the fight. Stay tuned!
23rd June 2017