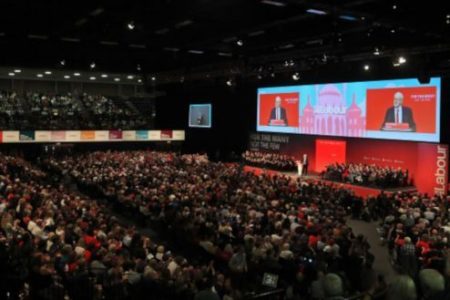 Labour activists publish anti-Brexit motion for Labour Party conference in wake of European elections

Motion, drafted by left wing group Another Europe is Possible as well as Open Labour and Labour for a Socialist Europe, calls for radical programme to transform Britain and Europe as well as clear anti-Brexit position.

Campaigners aim for "final and complete shift" in Labour's policy, with backing from trade unions and MPs.
Anti-Brexit campaigners have published their motion for Labour Party conference in the wake of the European elections.
Labour Party conference will take place in September, and delegates from local parties and trade unions will vote on a variety of issues, including Brexit. 
An overwhelming majority of Labour members back taking a clear position in favour of a public vote on Brexit, as do an increasing number of unions, including GMB and UNISON. A new group of left wing Labour MPs – Love Socialism Hate Brexit – is also backing moves to get Labour behind a public vote. 
The motion (below in full in Notes) calls on Labour to adopt a radical social and economic programme and a transformative vision for Europe, as well as taking a clear anti-Brexit stance. It is backed by left wing groups Another Europe is Possible, Labour for a Socialist Europe and Open Labour. 
The motion also calls for an unequivocal defence of free movement, and for Labour to challenge the narratives of the nationalist right. 
Another Europe is Possible will be running phonebanks and mobilising contacts in CLPs across the country. Last year, a similar campaign led to an unprecedented number of motions being submitted to Labour conference, and a substantial shift in Labour's policy. 
With last year's infrastructure in place, and both the membership and leadership having shifted further in their support for a public vote, campaigners are confident of delivering a large number of motions and a clear Brexit position for Labour – a position which was sorely lacking in the European elections. 
Michael Chessum, the national organiser for Another Europe is Possible, said: 
"It is time for Labour to make a final and complete shift towards backing a public vote and opposing Brexit. The alternative is that the electoral coalition behind Corbyn's Labour falls apart.
"The chronology of Labour's Brexit policy, which we established at last year's party conference, has run its course. Either we are in favour of stopping Brexit, or we are in favour of delivering it. So this motion is about the politics not the process – about an agenda of internationalism, defending free movement and fighting for radical change rather than pandering to the nationalist right."
Lloyd Russell Moyle MP, a member of the Love Socialism Hate Brexit Group, said: 
"We need an agenda of hope and solidarity to defeat Brexit, and that is something that only Labour can offer.  A left wing Labour government can rebuild communities, tackle inequality and give trade unions the rights they need to organise. 
"There is no left wing exit from the EU. The reality of Brexit is economic deregulation and scapegoating migrants. It will make us poorer and undermine our rights. We have a duty to stand up to that agenda, and be part of a radical transformation of the European project. Only by acting internationally can we challenge big capital and fight climate change."
Nadia Whittome,  from Labour for a Socialist Europe, said:
"Constructive ambiguity is failing Labour. It isn't what our voters or members want, and it isn't what the public wants from us either. It's not just about electoral maths, it's about democracy and about doing what is right. Abandoning free movement means abandoning millions of working class people whose rights we should be fighting for. Labour can play a massive role in transforming Europe and building mass socialist politics internationally – but first its members must assert themselves."
ENDS
NOTES
1. For more information please ring Michael on 07964791663 or email michael@anothereurope.org
2. Labour Party conference will take place in Brighton from 21st to 25th September. 
3. Another Europe is Possible is the left's cross-party campaign against Brexit, and campaigns within Labour. It led the campaign which saw more than 150 motions submitted on Brexit at 2018 party conference. Since then, hundreds more CLPs have debated its anti-Brexit motion. Another Europe's website is here: https://www.anothereurope.org
4. Labour for a Socialist Europe is an alliance of internationalist and left wing Labour members. Its website is here: https://labourforasocialisteurope.org
5. Open Labour is a grouping within Labour campaigning for transformative, left-wing politics. Its website is here: https://openlabour.org/
6. Love Socialism Hate Brexit is a group of radical and socialist Labour MPs who are fighting to stop Brexit: http://lovesocialismhatebrexit.org
7. All constituency parties can submit one policy motion, up to 250 words. 
8. The full motion is as follows:
Stop Brexit, transform Britain
The real division in society is not between those who voted Leave and Remain, but between the many and the few. Brexit is poisoning politics and stopping us from addressing the issues that matter to people. 
We need a general election to deliver a radical Labour government. 
If the UK leaves the EU, Brexit does not end. Instead, we face years of negotiations and trade deals that deregulate our economy in the interests of the few, making it much harder to deliver our radical manifesto. 
Brexit is a Tory project, and Labour opposes it. It would mean a victory for the nationalist right, and is a threat to our rights, jobs, NHS, public services and the fight against climate change. 
We will answer insecurity and exploitation with hope and solidarity to bring the country together.  We will rebuild communities with investment, expand common ownership, boost wages and union rights, and challenge the narratives of the nationalist right. Free movement is a workers' right which we will defend. 
The Leave vote is more than three years old, and there is no clear democratic mandate for any Brexit settlement. The democratic imperative now is for the people to have the final say. Labour will back Remain in that public vote. 
Labour is an internationalist party, with a duty to challenge the far right. We will campaign for a Europe-wide Green New Deal, levelling up of wages, democratising European institutions, ending Fortress Europe, and an international strategy to tax the rich and corporations. 
23rd May 2019