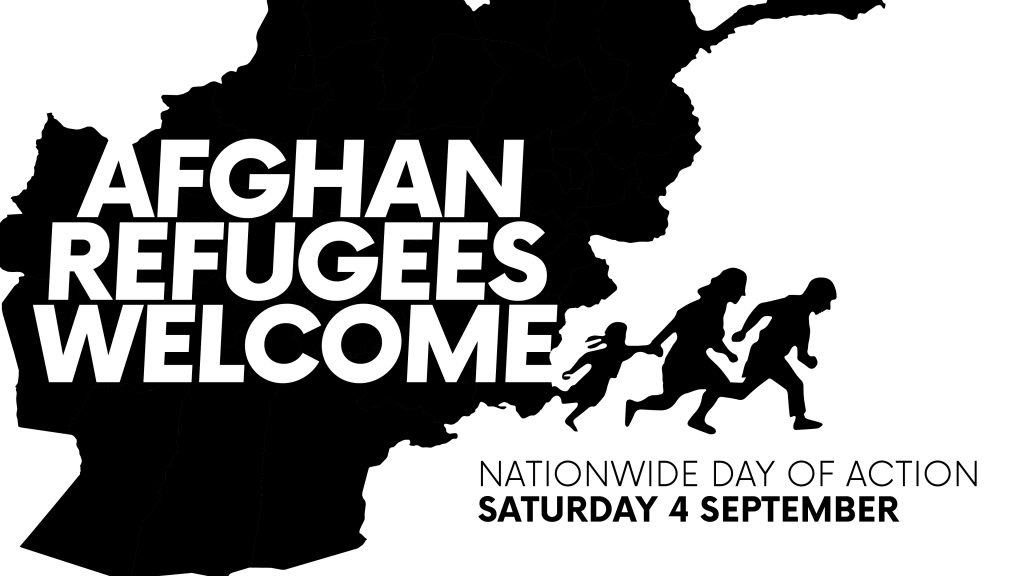 Download the leaflet for the day of action here.
Nationwide day of action. We demand:
Ditch the Nationality and Borders Bill

The UK and Europe must open up to refugees 

Defend migrants: free to move, free to stay
If you want to get involved in organising, fill in this form.
Join the Facebook event here. 
We have all been shocked by the scenes emerging from Afghanistan in recent weeks. As the Taliban returned to Kabul, many thousands of Afghans have tried to flee, risking their lives – and that number will increase in the weeks and months to come. 
The UK has a moral and legal duty to provide safe haven for refugees. Fleeing from persecution is an emergency, and it doesn't happen in an orderly fashion. But rather than opening up to refugees, the UK government is introducing a new law that will make it almost impossible for many to claim asylum here.
It is a myth that western and European countries are taking in the most refugees: only a tiny minority ever reach Europe. This new law is just the latest part of the government's anti-migrant agenda, which is about deregulating the economy after Brexit, and attacking workers' rights and public services, while blaming foreigners for the consequences. 
 The Nationality and Borders Bill will mean that:
Any migrant reaching the UK not via an official route could be deported, and may never get stable long term asylum, no matter how compelling their case. 

Unofficial journeys to the UK (for instance over the channel) could be criminalised, as could those assisting refugees to reach British soil.

The standard of proof for some aspects of an asylum case will be made vastly more complicated, and judges will be instructed to only give late evidence "minimal weighting", forcing traumatised people to get through a system that doesn't believe them.

Asylum cases could be processed abroad, with refugees housed in processing centres rather than in the community in the UK

Unless they come in through an official resettlement scheme, families may not have the same right of family reunion as they did before
On Saturday 4th September, join the day of action. We will be organising stalls, protests and events across the country. If you want to get involved, fill in this form.
25th August 2021