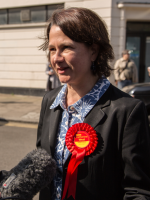 I warmly welcome today's Supreme Court ruling on Article 50, handed down by Lord Neuberger, which states that Parliament must have a vote on invoking Article 50.
Parliament must be sovereign, and therefore have the right to scrutinize and vote on the proposals brought forward by the Government. The Government should now publish a white paper outlining the Government's priorities for Brexit.
In Theresa May's speech in early January, she has made it clear that she was seeking a 'hard Brexit', indicating that the UK is likely to leave the Customs Union and that the UK will certainly leave the Single Market, breaking her own party's 2015 manifesto pledge:
Theresa May has stated that her plan for Brexit will deliver a "better deal for ordinary working people". Yet we have seen the pound fall to its lowest level in over thirty years against the dollar; major companies including JP Morgan, HSBC and UBS have already announced thousands of jobs will be relocated to Paris and Frankfurt; the Chancellor himself has admitted that Government finances will be at least £122 billion worse off in the next three years and inflation is set to rise.
Hard Brexit is a huge threat to both workers' rights and the national economy, as well as an abandonment of all the progress we have made around issues such as tackling international crime, terrorism and climate change.
Theresa May has allowed the hard line Brexiteers within her own party and the right wing media to dictate the form of Brexit, discounting the views of the 48% who voted to remain and more importantly disregarding the national interest.
In Hornsey and Wood Green we secured the highest remain vote in the UK with 81.5%. The best way I can represent my constituents and indeed protect our national interest is to vote against invoking Article 50.
Finally, over the past year we have seen hate crimes soar to their highest levels in recent times alongside an increasing wave of xenophobic nationalism. It is critical that MPs from across the house and indeed civil society in general counter such poisonous rhetoric and continue to make the case for a progressive relationship between the UK and our European partners.
More on Article 50 
25th January 2017