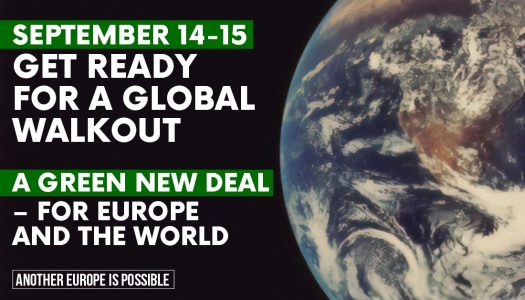 Sign up here to receive our specially produced materials for the climate strikes.
On Friday 20th September and Friday 27th September, millions will take part in a global climate strike. After a year of inspiring walkouts from schools students and young people all over the world, these days of action could see the movement  spreading into workplaces and wider society.
Another Europe is Possible will be throwing our weight into backing the strikes, and we will be holding a special weekend of action to build them on the 14th and 15th September, with stalls and activities across the UK.
This is a matter of survival, for all of us, and we will work with everyone, regardless of their views on Brexit, to tackle the climate crisis.
As well as bringing the struggle against climate change into the anti-Brexit movement, we hope to contribute to the political development of the huge and growing movement against climate change.
Tackling the climate crisis requires a politics of radical internationalism. Carbon emissions do not respect borders, and neither does capitalism. Our movement, and our institutions, must span well beyond national frontiers, and, imperfect though it is, the EU provides a framework for the state to intervene and for political movements to struggle. Brexit, Trumpism, and the rise of the far right are putting climate change denialists into power at the worst possible moment. 
In an era in which forced migration is likely to rise as a result of climate chaos caused by richer countries, we must decisively defeat the politics of right wing nationalism and border controls. Trump is already putting children in cages, and the EU is already allowing refugees to drown in the Mediterranean Sea. If we fail to push back against these policies, our borders will become the scene of far worse brutality in the decades to come. 
We must all unite to fight climate change. See you on the streets on 20th and 27th September!
21st August 2019