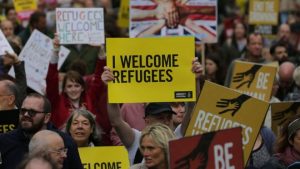 Last week, police carried out a mass arrest of more than 30 Iraqi refugees, many of whom have been in the UK for years and have families here. They are now being held at detention centres and could be deported to Iraq in a matter of days, where they will be in fear of their lives. The raids appear coordinated, and the refugees have even been interviewed by the Iraqi authorities in the detention centres.
We're supporting an emergency protest called by the International Federation of Iraqi Refugees (IFIR) this Thursday – and you should join us.
Time: from 5pm, Thursday 13th April
Place: Home Office, Marsham Street, SW1P 4DF
Facebook event: here.
Theresa May isn't just leading the charge on Hard Brexit. This is the Prime Minister that invented the racist "go home" vans when she was at the Home Office. The scapegoating of migrants and the deportation of refugees are part of the same process – and as progressives, we have a duty to build practical solidarity with migrants.
So on Thursday, let's show up and tell the Home Office to stop deporting Iraqi refugees.
10th April 2017