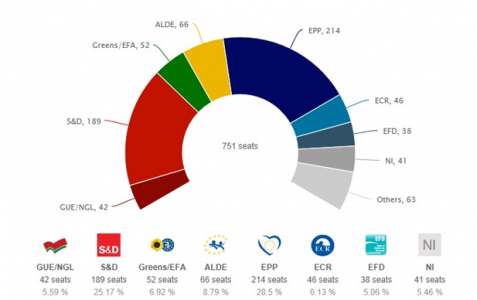 These European elections will be crucial, not only to the future of Britain but to the whole of Europe. Another Europe is Possible is a cross-party organisation, and we don't take sides between left wing parties in elections.
So here are three prominent supporters of Another Europe making their case: Amelia Womack for the Greens, and Laura Parker and Eloise Todd for Labour. If you want to put forward your own case, just get in touch at info@anothereurope.org.
---
The European Elections: why you should vote Green
Amelia Womack is Deputy Leader of Green Party England and Wales and a Co-founder of Another Europe is Possible.
These European Elections are unique. These are the elections many thought would never happen and we still don't know if, or for how long, elected representatives will sit in the positions they are elected to.
This is against a chaotic backdrop, caused by the Conservatives lack of ability to get Brexit over the line in three years during which public opinion has shifted significantly.
With a lack of People's Vote available, voters are using this election to show their feelings either way on Brexit and candidates are not being asked about detailed policy proposals, but about their vision for the future of the UK, and is place in the world.
The old political cliché – vote to send a message – is truer in this election than it has ever been before.
The Green Party is building support thanks to standing on an unashamedly radical message – pro-democracy, pro-migration and anti-austerity.
Pro-democracy
As the only Party that allows its members to make our policy decisions through a one member one vote system at conference, and then implements those policies, democracy is wired into our DNA.  We have always believed that more democracy, not less, is the way forward.
In the dark days following the referendum result, Caroline Lucas MP showed national leadership by calling for a People's Vote. The Greens pushed this argument forward, initially in the face of sustained opposition from other parties who insisted that the only democratic option was to implement an ambiguous Brexit despite question marks over the legitimacy of the original referendum.
Over time others got on board and now the Greens  are building to play a leading role in mobilising a positive pro-European movement to contest any new referendum. Together we will set out how a vote for Remain will be the start of the genuine social and economic transformation this country needs.
Pro-migration
At the heart of this positive vision for a European future is Freedom of Movement. Some politicians talk about Freedom of Movement in purely economic terms, as a facilitator of the flow of capital, as a trade sweetener or as a recruitment booster in key industries. For Greens, it's more human and personal than that.
Freedom of Movement is about people – enabling people to live, learn and love without borders. The future we strive to build is one without constraints, a future where every individual can choose how, where and with whom they live their life. Just as we passionately believe that class should not shape the lives of anyone, so to do we believe that everyone should have the right to a horizon as wide as their hope.
The Greens stand, with crystal clear clarity and hearts bursting with pride, for migration, for migrants and for the places they enrich.
Anti-austerity
The Greens have consistently stood against austerity. Further to this, we recognise the role Europe has played and can continue to play in the fight against poverty. To reverse the poverty epidemic in this county we need to invest in people and ensure social rights are embedded in our laws and our government agendas.
Out of the EU we will lose our ability to work collaboratively with our closest nations against poverty and the financial risks attached to Brexit. Along with the clear motivation of people like Farage to break up our health system, the pain caused will always hit those who already have the least and the elite will find ways to profit from the misery of others.
Included in the Green Party Manifesto is a pledge to press for a minimum income directive to be passed by the European Parliament. This would commit every country in the European Union to guarantee their citizens a decent minimum income – a commitment enforced through European law. This would force the UK Government to increase benefits to levels that would actually provide decent living standards, and to end all benefit sanctions.
A reformed, radical Europe can be part of the solution to poverty and inequality – a Union that can win for British people rights denied to them by their own government.
This is the pro-democracy, pro-migration, anti-austerity platform the Greens are standing on. It's the message we are proud to send. It's a message that's gaining ground fast.
On top of the best local election results in our history, recent opinion polls have put the Green Party ahead of the Conservatives for the first time ever, and leading the pack when it comes to young voters..
As the UK decides on the country it wants to be this week, Green votes can lead the way – towards a genuinely progressive European future.
---
European elections: why you should vote Labour 
This article initially appeared in the Independent here.
Donald Trump might make the rise of populism impossible to ignore, but as Europeans we must not pretend that this is a problem "over there" as far-right sentiment continues to creep across our continent.
From Germany's AfD, Hungary's Fidesz, Italy's Lega Nord and France's National Rally (the rebranded Front National) to Ukip and the Brexit Party, ultra-nationalists are determined to wind back the clock on social progress, international cooperation, cultural tolerance, migrant rights and women's rights.
In fact, this tide of far-right populism threatens the very foundations of life on Earth. At a critical time for taking action to combat climate change, Nigel Farage and his climate-change-denying cronies across Europe are poised to gain influence in Brussels. According to a study by the think tank Adelphi, the far right could make up a quarter of MEPs after elections this month. They are already in government in seven EU member states.
Nigel Farage, whose Brexit Party is currently leading the polls for the European elections, is not a friend of the environment. As well as opposing the Climate Change Act during the 2015 general election, Farage has consistently cast doubt on the link between climate change and carbon dioxide emissions. In 2013 he told the European parliament: "We may have made one of the biggest and most stupid collective mistakes in history by getting so worried about global warming" – a statement he was keen to downplay on the BBC's Andrew Marr Show at the weekend.
In the UK, a victory for the Brexit Party would also be a victory for environmental vandals in the fossil-fuel industry and those trying to frustrate international efforts to reduce carbon emissions through the Paris climate agreement.
Climate change is a global issue: it does not respect borders and therefore it needs an international response. European nations have a moral obligation as well as a very real self-preservation imperative to act. We have both worked on European environment policy, including on trade and sustainable development in the European Commission and in the European parliament. We know the EU is far from perfect – but it has shown leadership on tackling climate change.
The amount of renewable energy produced in the EU grew by two-thirds between 2007 and 2017 as a result of EU legislation agreed by all member states (including the UK) as part of its obligations to the Kyoto protocols. The Paris accords have led to the European Commission prioritising climate change with the development of policies, frameworks and strategies for 2020, 2030 and 2050.
The Party of European Socialists – for which we are both standing as Labour candidates in the forthcoming European elections – is one of only two parties that can realistically win the commission presidency which sets the EU's agenda. Our manifesto sets out a comprehensive approach to tackling climate change, including European-wide taxes on carbon emissions, a 2050 target for a carbon neutral Europe, a plan for affordable housing and clean public transport, and a transition fund to make sure we meet our UN commitments.
Labour MEPs will get behind this agenda. We know we must combine action on climate change with an agenda of social justice to offer a European-wide Green New Deal which will have a ripple effect across the world. It is the world's poorest people whose lives are most affected by the depletion of natural resources while sea levels and temperatures rise. We must not just build prosperity through green growth in Europe, but shift the narrative on migration to welcome those made refugees as a result of climate change.
Creating an international movement of hope and renewal is the antithesis of the project of fearmongering and border-building of Farage and the climate-change fantasists. Labour is the first party in the world to call a national climate emergency through parliament.
At a time when school strikers, Greta Thunberg, the Sunrise Movement and Extinction Rebellion are bringing new life and energy back into the climate justice movement across the world, we cannot allow this to be diluted by he likes of Marine Le Pen, Victor Orban and Nigel Farage.
When you vote on 23 May, there is only one group in the European parliament with the political vision and strength of numbers to defeat the Brexit Party and their allies. Those who want to stop the far right and ensure Europe steps up on climate change must vote for the Labour Party and the Party of European Socialists.
Eloise Todd is a Labour MEP candidate for Yorkshire and the Humber and is on leave from being the CEO of anti-Brexit group Best for Britain. She formerly worked for the Socialist and Democrats Group in the European parliament. Laura Parker is a Labour MEP candidate for London and is the National Coordinator of Momentum. She previously worked on EU environment policy for the European Commission and the UK government
22nd May 2019