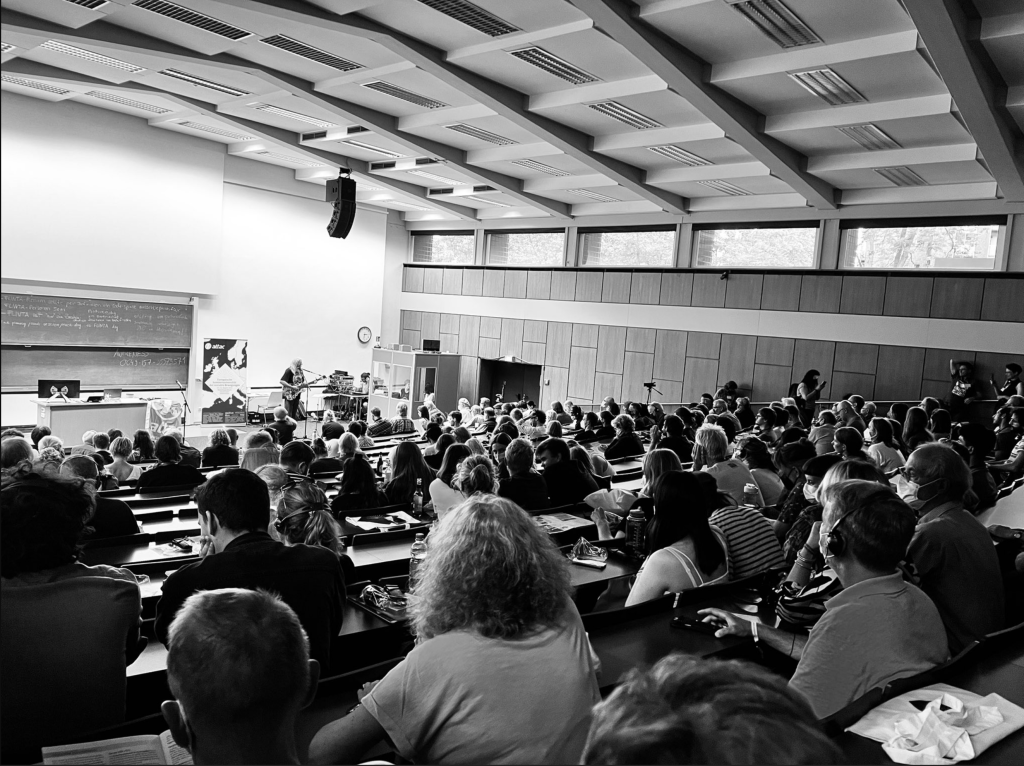 This year the European Summer University of Social Movements (ESU) took place in Mönchengladbach, Germany. Key sponsors of the event include the European ATTAC network, a member-led organisation that began with the anti-globalisation movements of the 90s and now consists of several thousand members in countries across Europe. ATTAC Germany led the organisation of the event this year, involving the other national ATTAC branches and many supporting organisations, including Global Justice Now, Rosa Luxembourg Stiftung, Transform Network and Another Europe Is Possible.
With several hundred participants, the event was an excellent opportunity to connect with international activists across various European countries, share knowledge and build the blocks for joint campaigning.
Many different workshops, forums and plenaries, decentrally organised by participating organisations, were on offer. They covered issues such as climate campaigning, energy, intersectionality, peace and war, new economic models and importantly, how to bring comedy and joy to activism.
Another Europe Is Possible organised two workshops at the ESU, in collaboration with CEDETIM and European Alternatives, on 'Confronting Islamophobia Across Europe' and 'No Secure Europe without a Secure World', looking at peace and security in the 21st century within and beyond the borders of Europe.
There were also plenty of opportunities for fun and socialising, with a beautifully decorated bar and cafe area, great music, live performances and discos.
Opening Plenary
At the opening plenary, activists from supporting organisations across Europe spoke on topics from public ownership of vaccines to climate and trade unionism organising. I was asked to speak on anti-racism where I addressed the widespread problem of the lack of engagement and participation of racialised and minoritised communities in traditional left spaces.
As the vast majority of the global working class belongs to racialised and minoritised communities (a product of colonialism and the historic creation of racial and national categories by colonisers), it is deeply concerning that many left spaces do not reflect these communities. This is a problem across Europe but with the right intention and commitment, it is totally possible to diversify left and progressive organising spaces. Often this means that those from more privileged race and gender backgrounds must be willing to create and give up space for people from racialised and minoritised communities, actively seeking to engage us and connect with the many different activist and community organisations led by people of colour.
Workshop: Confronting Islamophobia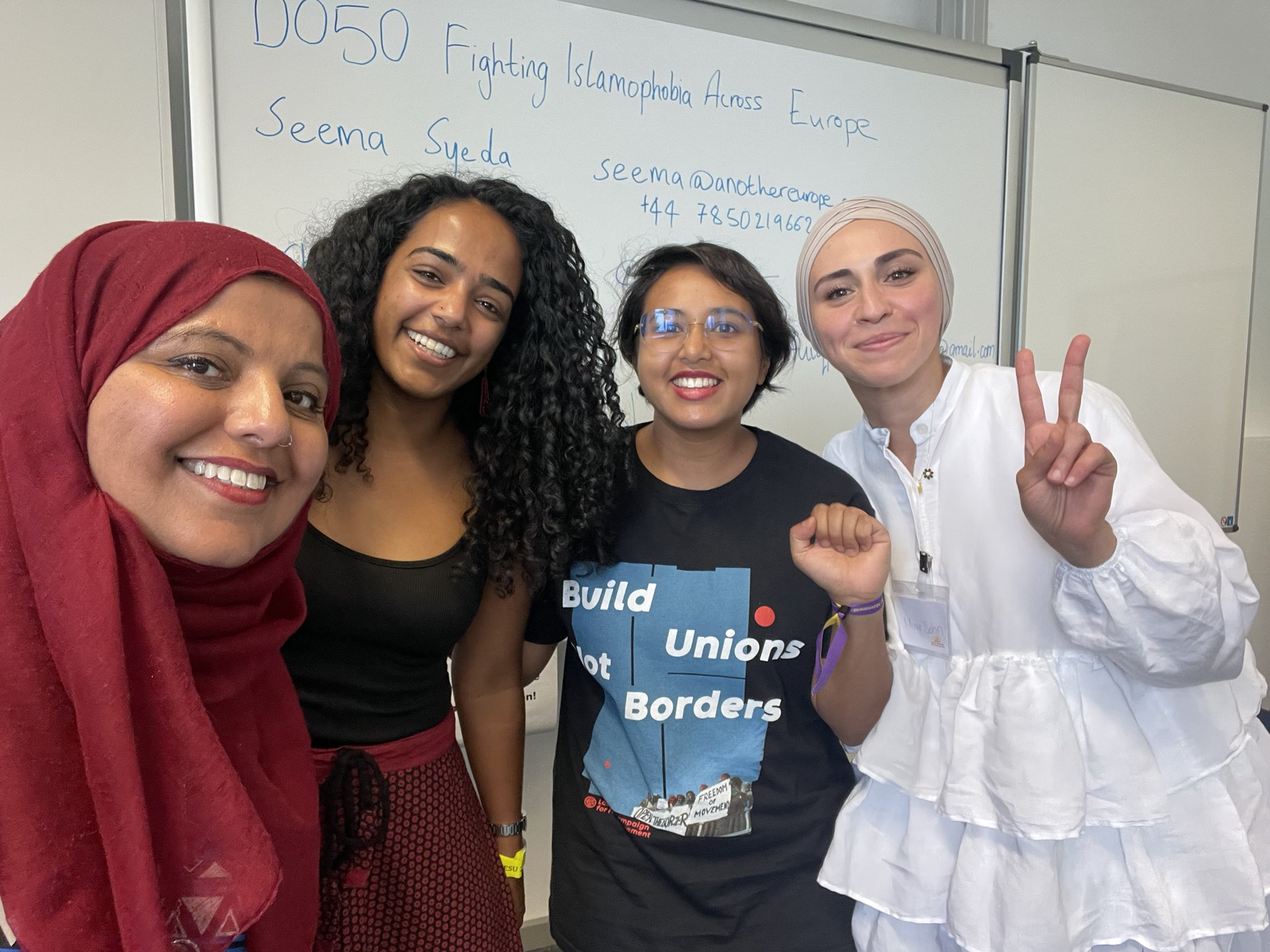 Seeking to address this problem, Another Europe Is Possible is running a long running campaign on Confronting Islamophobia Across Europe. As part of the campaign we organised a workshop at the ESU with an all-women panel of activists and politicians from racialised communities with lived experience of Islamophobia, or direct experience organising against it.
With simultaneous interpretation in English, French and German, our workshop brought together Merve Sahin, a Die Linke elected representative from Germany, Sohinee Gosh, an activist from the working class, migrant-led French organisation FUIQP (Front Uni des Immigrations et Quartiers Populaires), and Shaista Aziz, U.K. Labour Councillor and co-founder of the viral three hijabis campaign. The workshop was fully attended, so much so that we ran out of chairs, demonstrating the demand for a topic that is not often spotlighted.
The discussion drew parallels between the lived experience of discrimination in work, healthcare and state surveillance and oppression experienced by Muslim communities across Western Europe. From the UK Prevent programme disproportionately targeting and criminalising Muslim children as young as six, to the French separatism laws and hijaab bans targeting Muslim communities, particularly women, to economic discrimination in Germany and the fact that a Muslim woman entering public life was automatically assumed to be 'oppressed' and in need of liberation. These views and laws have the tangible result of direct violence upon Muslim communities, particularly Muslim women. The utility of the term 'Islamophobia' was also discussed, as it was agreed that combatting Islamophobia was not about preventing criticism of Islam, it meant defending Muslim communities from direct violence and oppression. It was floated that 'anti-Muslim hatred' was perhaps a better term.
What the workshop demonstrated was that Muslim women and women of colour do not need to be saved or for others to speak 'for us'. Muslim women's dress, just like that of any other woman, should not be policed by the state or anyone from within their own communities. All patriarchal and mysogynist structures must be challenged. The agency and freedom of Muslim women to exist, be visible and to lead in public spaces must be respected and actively supported.
The tendency of the left to actively perpetuate, enable or tacitly accept Islamophobia must be challenged. Solidarity and active resistance to laws, policies and discourse targeting Muslims across Europe is sorely needed.
As Islamophobia is an issue that is often ignored or absorbed into general anti racist discourse, simply creating a space where Muslim voices are platformed to discuss the issue and raise awareness within our organising activities is an important first step. This can be the basis for building strong networks of international solidarity that can launch concrete, meaningful campaigns against individual policies as well as systemic anti-Muslim hatred.
Peace and Security in the 21st Century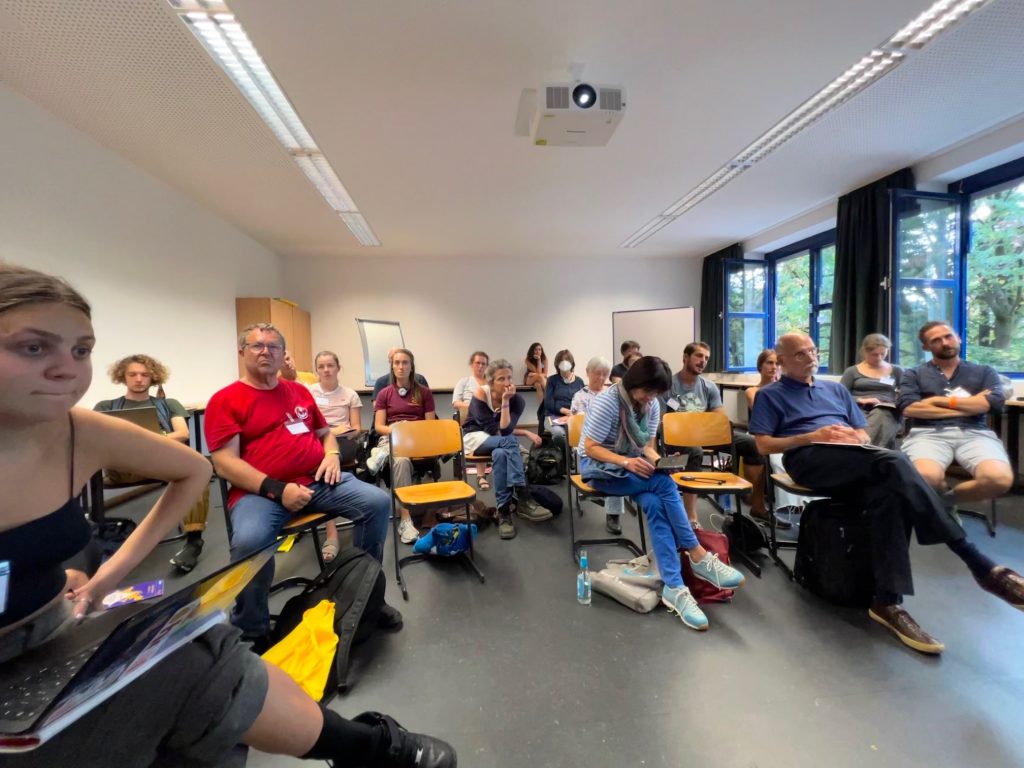 In another well attended workshop, we brought together a panel of left wing, progressive and democracy activists from Ukraine, Russia, Syria, Poland, France and the U.K. to discuss building international movements of peace and resistance to authoritarianism and imperialism, discussed with a pan-European audience.
The panel included Ukrainian activists Hanna Perekhoda (Committee Ukraine, Switzerland) and Yuliya Yurchenko (Ukraine Solidarity Campaign), Zofia Malisz (Razem International, Poland), Dmitri Makarov (Moscow Helsinki Group, Russia), Mazen Gharibah (Syrian researcher, LSE) and Bernard Dreano (CEDETIM, France). We also invited Shukria Rezai, a U.K.-based activist from Afghanistan, to attend but unfortunately she was unable to travel due to U.K. immigration restrictions.
There was a clear call from Ukrainian activists to defend their right to self determination and support their resistance to Russia's imperialist war of aggression. Polish Razem International activist Zofia Malisz gave strong support to this proposition, criticising the idealist tendency on parts of the left to call for peace without acknowledging that for many Ukrainians, peace means the right to self-determination and self-defence.
Speakers also grappled with the difficult question of NATO. Whilst being fully critical of NATO's role and history, Malisz argued that the left needed a nuanced and realistic approach to the problem. In the face of Putin's expansionist ambitions, for countries and populations close to the Russian border, joining NATO has now become a far more popular demand as an immediate and practical means of protection against wars of aggression, however flawed the treaty system. She highlighted that for countries bordering Russia, Russian imperialism predates the Soviet Union and even capitalism. For the international left to maintain relevance in these regions, simply decrying NATO imperialism without acknowledging Russian imperialism or defending Russian border nation's right to self-determination is untenable.
Syrian researcher and activist Mazen Gharibah pressed home a similar point, highlighting that many Syrians felt abandoned by the western left in the face of Assad's Russian-backed military onslaught against the Syrian people. There was agreement that joint campaigning connecting the different conflicts would be useful, particularly for example when advocating the investigation of war crimes; and campaigning for swift protection and provision of homes and resources for people displaced by different conflicts.
This could connect up with the demand for proper investigation of war crimes committed by Western European armies too, especially on US refusal to join the International Criminal Court and the general failure of accountability for atrocities committed in Iraq, Afghanistan and Palestine.
Dmitri Makarov, traveling from Russia, provided an important link with the Russian democracy and anti-war movement. Under harsh state repression and surveillance, there are obvious difficulties for Russian pro-democracy and anti-war activists. Ukraine's recent moves towards more democratic government, away from Putin-sympathising oligarchs, is also one of the key factors motivating Putin's invasion. The conflict forms part of the global trend towards authoritarianism and reactionary nationalism. Grappling with the realities of war and Ukraine's right to self-defence whilst keeping alive the ideal of internationalism and a world beyond borders through strong, connected cross-border movement building is crucial.
A lively discussion was had with audience members and it seemed there was strong appetite to continue the debate and build on it with joint campaigning and collaboration.
Close
All-in-all, the European Summer University was a much needed forum of face-to-face connection after years of pandemic and lockdown. The challenges facing different social movements across Europe and beyond are great. It was heartening to see so many diverse groups come together to collaborate, and it's on this basis that we must move forwards to create more representative, inclusive and international mass movements to fight for a socially just, peaceful and sustainable world, in Europe and beyond.
12th September 2022