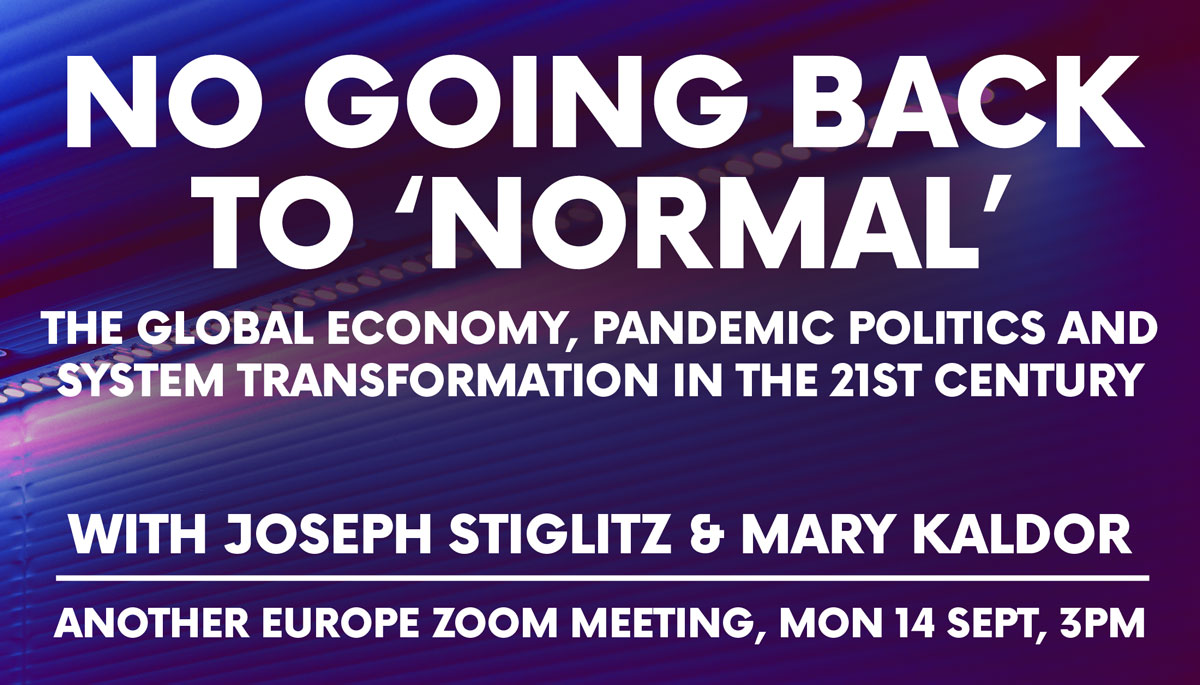 Joseph Stiglitz is professor in economics at Columbia University. A former Chief Economist at the World Bank, he won the Nobel Prize in Economics in 2001. His most recent books are People, Power and Profits: Progressive Capitalism for an Age of Discontent (Allen Lane, 2019) and Measuring What Counts; The Global Movement for Well-Being (The New Press, 2019, co-authored with Jean-Paul Fitoussi Martine Durand).
Mary Kaldor is Emeritus Professor of Global Governance at the London School of Economics and Director of the Conflict and Civil Society Research Unit. She is a world leading authority on conflict, peace building, democratisation and global governance. A lifelong civil society activist and campaigner, she is a member of the Another Europe Is Possible National Committee. Her most recent books are Global Security Cultures (Polity, 2018) and Cities at War (Columbia University Press, 2010, co-edited with Saskia Sassen).
An in-conversation event hosted by Luke Cooper, Another Europe Is Possible.
***
Coronavirus has swept through a global system already struggling under the pressures of rising political nationalism and skyrocketing economic inequality. Increased pressures on the ecosystems of planet Earth are also propelling human societies to new and deeper crises in the century ahead. Meanwhile, financial globalisation – the ease with which money can move secretly across borders – has also proven a critical factor driving armed conflicts.
Neoliberal globalisation is breaking apart under its own contradictions. But what will replace it – is a new authoritarian capitalism coalescing, and, if so, what's the progressive alternative?
This in-conversation event brings into dialogue two intellectuals that long ago warned that the global system was heading towards new crises of its own making without radical change.
In this event they'll discuss the dangers ahead and how they might be averted. We will explore the radical policies needed to address the causes of the global crisis. What kind of capitalism is emerging with the Coronavirus pandemic? And what policies are needed to avert the creation of a system of 'hyper inequality', with increasingly corrupt leaders deriving their legitimacy from nationalist identity politics, not human wellbeing? And how can the redistributive agenda be combined with a transformation to an ecologically sustainable world? Join us to find answers to these questions, and more.
***
The event is organised as a collaboration of Another Europe Is Possible and the Friedrich Ebert Stiftung (FES), London office, and will begin with some opening remarks from FES director, Christos Katsioulis.
3–4.15pm UK time, 14th September 2020
28th August 2020