Delegates at FBU conference debated EU membership at length both in a fringe meeting on Wednesday and in a plenary debate today, but ultimately decided by some margin to remain and campaign for change with trade unionists across Europe.
Matt Wrack, FBU General Secretary, gave a fiery speech, critical of the current EU but strongly in favour of staying in to defend workers' rights and change the union from within.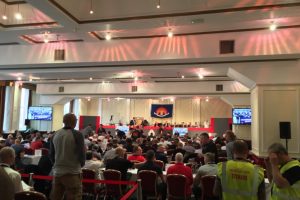 In particular, Wrack passionately defended the free movement of workers, saying that problems such as unemployment and housing crisis were caused by banks and the failure of markets, and not by migrants.
Kieron Merrett, trade union officer for Another Europe Is Possible , who spoke at a conference fringe meeting the evening before the vote, said:
"It's terrific to see one of Britain's best organised trade unions back the workers' case for 'In' with an explicit 'stay in Europe to change Europe' line. It was an excellent debate that we were delighted to participate in. But the message must now go out, not only to every firefighter, but also every trade unionist in the UK. There is only one way to vote in this referendum to defend the vital interests of working people. That's to vote to remain inside the European Union."
12th May 2016