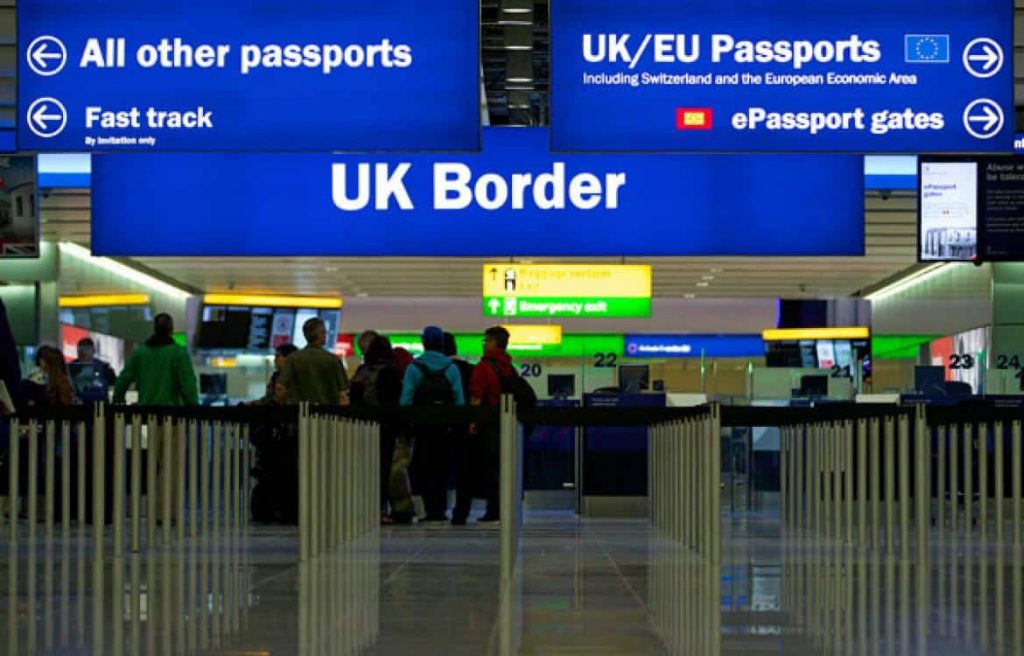 Candidates for the Scottish Parliament asked to pledge support for a 'don't ask, don't tell' policy on border enforcement

Right to Stay campaign warns that Settled Status rules established by Westminster could lead to thousands of EU migrants in Scotland being criminalised or deported

Initial signatories of pledge include Depute First Minister John Swinney, as well as representatives of Labour, Liberal Democrats and Greens
Parliamentary candidates for this May's Holyrood elections are being asked to sign up to a pledge to support the rights of migrants, including a policy of "don't ask, don't tell" so that Scottish institutions are not used as Home Office border guards.
The pledge is the work of the Right to Stay campaign – a joint initiative of the Joint Council for the Welfare of Immigrants and Another Europe is Possible – which has been set up to campaign for an automatic 'right to stay' to replace the Settled Status applications process for European citizens after Brexit. 
Initial signatories to the pledge include Green co-convenor Patrick Harvie, Depute First Minister John Swinney, former shadow minister and Labour MP Paul Sweeney, and twenty others. It reads:
'I support the Right to Stay campaign and principle of automatic registration, not application, for EEA nationals. I pledge to work to defend migrants' rights and ensure migrants have access to public services. I support a Don't Ask Don't Tell principle whereby Scottish institutions do not act as Home Office border guards. If elected as a Member of the Scottish Parliament I will campaign for the Right to Stay.'
Around a quarter of a million European nationals live in Scotland, and all have until the end of June to apply for Settled Status. Even with a 99% application success rate, many thousands will face losing their right to be in the place they call home. Many of those who have not been rejected have been given 'pre-settled status', meaning that they will have to re-apply in the coming years, and many more are already being wrongly denied access to services and jobs because of widespread misunderstanding of the scheme. 
The existence of the Settled Status application process is itself a breach of the promises made by Leave campaigners during the 2016 referendum. The Vote Leave campaign promised that "there will be no change for EU citizens already lawfully resident here. These EU citizens will automatically be granted Indefinite Leave to Remain and will be treated no less favourably than they are at present."
Alena Ivanova, Head of Campaigns for Another Europe is Possible, and a Bulgarian citizen living in Glasgow, said: 
"The Westminster government has for many years now pursued the Hostile Environment – a deliberate attempt to make life unbearable for many migrants – and it is now planning to subject European migrants to that same policy. We are talking about the lives of hundreds of thousands of people across Scotland, and many millions across the UK, including many of the front line workers who have kept the country running during the pandemic, who have built lives in the UK, had families and made their home. The only way to guarantee their rights is for Westminster to introduce an automatic right to stay for all European citizens, which is what Boris Johnson promised during the EU referendum anyway. 
"Failing that, the Scottish government must act. While Holyrood may not have the power to stop the Hostile Environment entirely in Scotland, it does have the power to operate a 'don't ask, don't tell' policy when it comes to access to public services and education. This pledge is an attempt to leverage those powers to work against Westminster's anti-migrant agenda and make the lives of many migrants in Scotland more bearable. By and large, Scotland's politicians understand this situation and oppose it, and that means that they have a responsibility to take urgent measures to prevent another Windrush scandal."
Maggie Chapman, Scottish Greens candidate for North East Scotland, said: 
"Immigration brings huge benefits to our communities, and I am very disappointed that the UK Government's continuing failure to value those benefits will damage all our futures. At a time when we have seen the massive importance of NHS and social care staff, many of whom are immigrants, there is a real opportunity for Government too recognise the vital significance of immigrants and immigration to our society and collective wellbeing. The hostile environment needs to end now."
ENDS
NOTES
For more information, please ring Alena on 07565161800 or Michael on 07964791663, or email

info@anothereurope.org

A report into the crisis with Settled Status can be read in full

here

.

Right to Stay is a joint initiative of Another Europe is Possible and the Joint Council for the Welfare of Immigrants

The full list of MSP candidates to sign the pledge so far are as follows. Many more are expected to sign now that it has been made public: 
Catriona Bhatia, Lib Dem, South Scotland
Patrick Harvie, Greens, Glasgow
Paul Sweeney, Labour, Glasgow
Ross Stalker, Lib Dem, Renfrewshire North and West
Michelle Thomson, SNP, Falkirk East
Euan Davidson, Lib Dem, East Lothian
Keiran O'Neill, Labour, Glasgow Maryhill and Springburn
Jane Ann Liston, Lib Dem, Mid Fife and Glenrothes
Catriona MacDonald, SNP, Edinburgh Southern
Fergus Mutch, SNP, Aberdeenshire West
Ben Macpherson, SNP, Edinburgh Northern and Leith
Katrina Faccenda, Labour, Edinburgh Northern and Leith
Mercedes Villalba, Labour, Dundee City West
Laura Moodie, Scottish Greens, South Scotland region
Maggie Chapman, Scottish Greens, North East Scotland
Molly Nolan, Lib Dems, Caithness, Sutherland and Ross
Ariane Burgess, Scottish Greens, Highlands and Islands
Kim Long, Scottish Greens, Glasgow
Jacci Stoyle, Liberal Democrat, Inverclyde
Guy Ingerson, Scottish Greens, Aberdeen Central and North East Scotland
Ross Collins, Scottish Greens, West of Scotland
John Swinney, SNP, Perthshire North
Isabella Sumsion, Scottish Greens, Highlands and Islands
Shona Robison, SNP, Dundee City East
21st April 2021