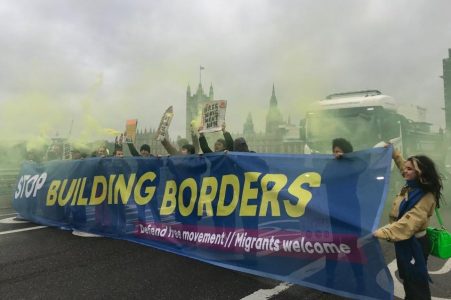 Brexit will mean a brutal attack on migrants' rights, and the tool which the Tories are using to enact this is the Immigration Bill, which will go back to a vote in parliament for a final vote in March. The vote will be tight, and with enough pressure we can beat it.
That's why, as well as our days of action against Brexit, Another Europe is joining forces with the Labour Campaign for Free Movement and a host of other campaigns for a day of action for free movement on March 1st. We are going to put pressure on MPs to vote the Bill down.
What does the Immigration Bill do?
It will end free movement of people between the UK and Europe, subject them to the same racist Hostile Environment already faced by non-European migrants, and hand a blank cheque to the government to write new rules. The Tories want to class all migrant workers earning under £30,000 as "unskilled", strip them of any right to stay in the country longer than a year, and leave them vulnerable to hyper-exploitation by bosses.
What can you do?
On 1 March, communities across the country will come together to tell Parliament: kill the Immigration Bill and defend free movement!
You should:
Fill in

this form

to tell us you're up for doing action

Organise an action in your community – a rally, a protest, a direct action, lobby your MP or leaflet your high street.

Share the day of action on social media and invite everyone to the Facebook event.
18th February 2019