Back at Labour conference 2021, there were already clues about Labour's rightward shift on immigration. Starmer and Cooper's speeches, as well as Reeves' commentary, indicated an approaching lukewarm response to the Tory assault on immigrants.
The dog whistle response to the Illegal Migration Bill is part of this trend. As conference season approaches and with Labour's National Policy Forum meeting due, an allegedly crucial meeting in its manifesto development process, the party has now published its draft policy statement.
The NPF report on Immigration repeats the promises in Starmer's TUC speech, of a points-based system for those who want to come here to work, addressing shortages in the labour market, and an increase in training to create the skills British industry needs. The report recognises that people come here to work in response to vacancies. But it's a wink to those who think they shouldn't come at all. They are silent on the skills and income threshold, while domestic skills generation will take time.
This wink to racism is reinforced by the statement that there will be no return to "freedom of movement", part of the pre-Brexit UK immigration regime which allowed EU citizens to work in the UK with equivalent rights and meant British citizens could go and look for work throughout Europe.
It's something noticeable within Labour – they find it easier to show solidarity with refugees provided they don't arrive from Calais, but are silent about workers, family reunification and foreign students. This means they tend to remain silent on the broader 'hostile environment' system.
On refugees, Labour seeks to differentiate itself from the Tories through competence, not compassion. In Cooper's speech to Labour's 22 Conference, she made it clear that Labour's approach to refugees crossing the channel would be a police-based security response. This involves talking more about gangs than about refugees. Their opposition to the Rwanda scheme seems to be as much related to its cost as to its immorality and illegality and they plan to use the 'savings' to increase funding to the National Crime Agency. The only way to 'stop the boats' is to establish a safe means of applying to enter; in the case of the Calais camps, we should send civil servants to the camp and process the applications. The Refugee Council in its report highlights that the 'crisis' is caused by government policy, specifically the refusal to create legal routes for asylum seekers who have grounds to make a claim for refugee status in the UK , as well as the hostile environment regime more generally. The report also emphasises the high number of people whose applications are approved once they get to the UK.
There is no commitment to repeal the Nationality and Borders Bill and the Labour front bench dusted down its old friends, competence, and prudence in its opposition to "Illegal Migration Bill".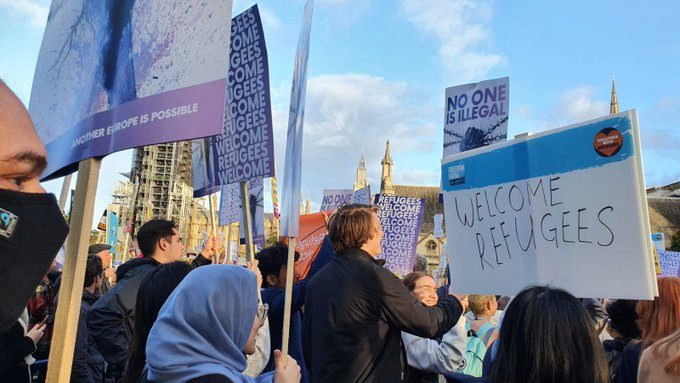 It's all about returns and deterrence. The Labour Party should be doing better.
At the same time, as part of the 2023 local elections campaign Labour accused the Tories, in the person of Rishi Sunak, of being soft on criminal paedophiles. While the aggressive Tory response was to be expected, many of Labour's supporters and allies, including the Guardian, Richard Murphy , Lord Prem Sikka, and the Secret Barrister found this to be unacceptable. But those that run Labour today, see this as a double bonus, an attack on the Tories, a wink to their imagined 'Blue Labour' supporters and a poke in the eye to the liberal, anti-racist left.
One lesson that might be learnt from those elections is that the British people want to be good neighbours and hosts. Bridget Chapman, a noted campaigner for welcoming refugees, was elected to Folkstone council as a Labour Councillor which, of course, is one of the locations most impacted by the Tories' manufactured refugee 'crisis'. A small bright spot on the issue of immigration amongst Labour's vacant sea of grey.
In order to amend the NPF Draft Report, Labour Party members have until May 29th to notify, through their CLPs, their CLP NPF Reps of changes they want to see in the draft policy document.
This deadline is extraordinarily short and CLPs with General Committee structures are unlikely to be able to respond.
If you are able to though, you should ask for:
An immigration system based on compassion and decency, welcoming workers, citizens' family members and refugees.
A commitment to repeal the hostile environment, Nationalities and Borders Act and the Illegal Migration Bill in full, and return legal aid provision to 2012 levels as a minimum.
Revising the skills and income thresholds for immigrant workers to meet real economic needs; allowing people to come to this country to look for work.
Scrapping of restrictive Seasonal Agricultural Worker and Overseas Domestic Workers visas that are feeding exploitation & slavery. Return to pre-2012 domestic workers' visa model & explore an agricultural worker visa on the same lines i.e. including meaningful flexibility to change employer, with a pathway to settlement while extending these visa to other shortage areas.
Any replacement to the Dublin system to ensure the UK meets international legal obligations including providing safe means of travel to the UK for asylum seekers with a connection to the UK, and to lead the rest of Europe on sharing responsibility for a fair share of refugees by providing them with means of travel that remove the need to rely on smugglers.
A commitment to revisit and review operation of juxtaposed controls in France which have caused the growth of informal camps of asylum seekers.
The introduction of a travel document available to people seeking to enter the UK for the purpose of claiming asylum. This could take the form of a conditional visa obtainable at ports of entry on either side, permitting entry to the UK for the purpose of applying for asylum.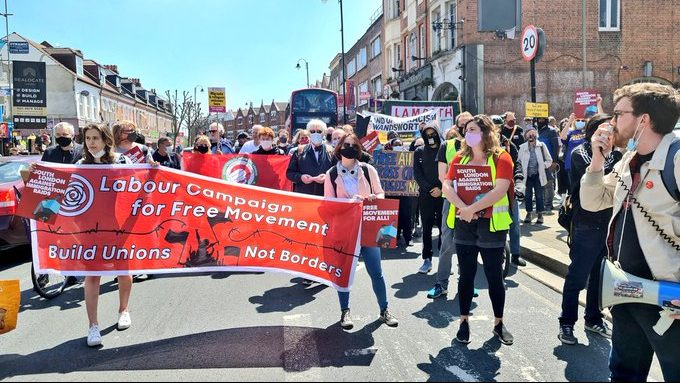 19th May 2023