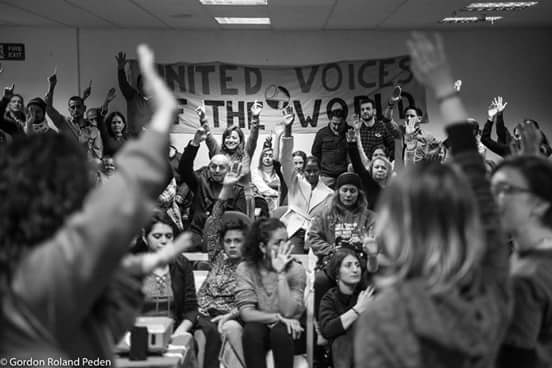 Another Europe is Possible is supporting an initiative from precarious workers this May Day, demanding free movement and decent conditions.
Join the protest in London on May 1st. Meet at 1.30m outside Charing Cross station.
Facebook event here.
—
May 1st is International Workers' Day.
Join us for a day of celebration and action!
We are precarious workers, from cinema workers to sex workers; from drivers to cleaners. We are young, migrant and women workers. We are so-called unskilled workers, whose hard work enables society to function. We live in poverty, on low pay and crap contracts – and we are demanding:
An end to exploitative contracts and poverty pay – give us guaranteed hours and enough money to live a decent life. Every worker deserves at least a Living Wage!
Free movement and migrants' rights – the penalty for standing up to your boss should not be deportation
The decriminalisation of sex work – give us the right to organise for better conditions
An end to trade union victimisation and repeal of the anti-union laws.
Join us on the May Day rally and for series of actions across central London. Bring banners, flags and friends!
***
Meeting point:
Out the front of Charing Cross station, from which we'll head to the May Day rally in Trafalgar Square.
Actions:
At the end of the rally we'll march from Trafalgar Square, visiting a number of exploitative workplaces, where workers are in dispute, including the Ministry of Justice, Picturehouse Central and McDonald's.
Rally:
We'll end with our own rally from 17.30 outside the McDonald's on Leicester Square.
Organised by:
Independent Workers Union of Great Britain – IWGB
United Voices of the World the union
A Living Wage for Picturehouse Central Staff
East Dulwich Picturehouse Living Wage
A Living Wage for Hackney Picturehouse Staff
A Living Wage for Crouch End Picturehouse Staff
Women's Strike Assembly – UK
London Wobblies
Another Europe Is Possible
Plan C London
21st April 2018