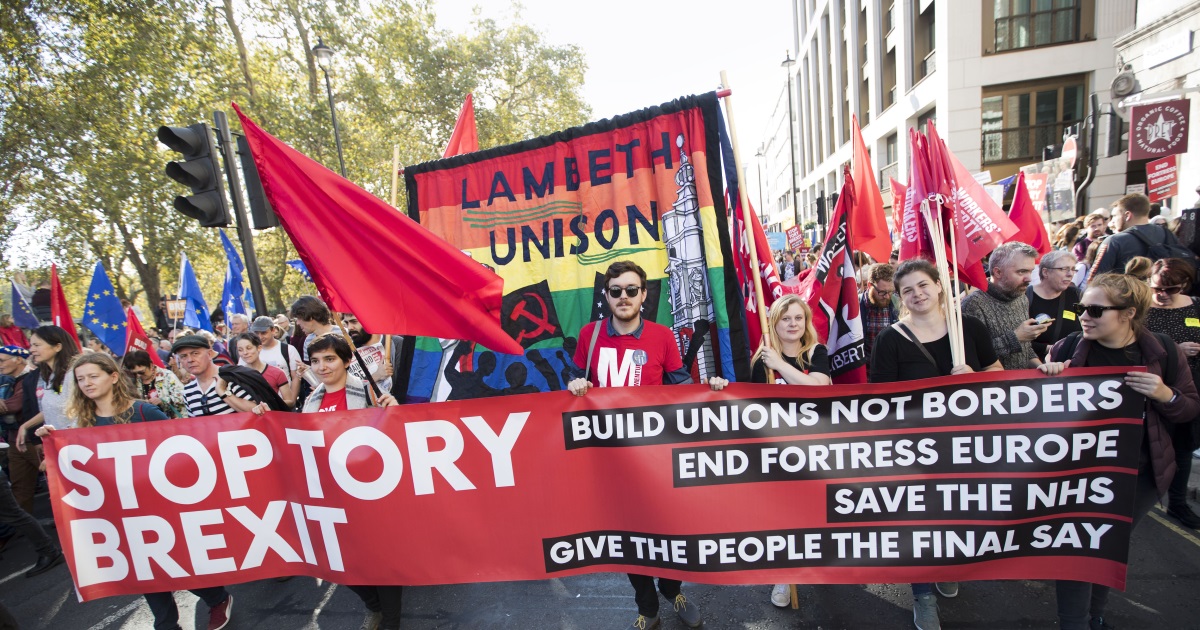 Another Europe is Possible, Labour for a Socialist Europe and Open Labour have launched their motion for Labour Party conference 2019. This is also the motion endorsed by the Love Socialism Hate Brexit group of MPs.
If you are member of the Labour Party, you should submit it now to your CLP.
For more information, including a list of FAQs, just scroll down below the motion.
We need to raise money for our campaign to change Labour's policy – please donate here.
Once you have submitted this motion to your local party, please tell us about it by emailing info@anothereurope.org.
---
Motion to Labour Party conference 2019
Stop Brexit, Transform Britain and Europe
Word count (not including title and this notice): 250
Conference notes the vast majority of Labour members and voters oppose Brexit. Our policy must reflect members' overwhelming support for a public vote.
We cannot go into a general election without a clear Brexit policy.
If we leave the EU, Brexit does not end. We face years of negotiations and neoliberal trade deals. Any form of Brexit threatens jobs, workers' rights, migrants, the NHS, public services and the environment, and makes it harder to deliver a radical manifesto.
Brexit is part of a right-wing nationalist exploitation of global economic and social crisis.
We will challenge the narratives of the far right, addressing the reasons people voted Leave. We will attack poverty, insecurity and inequality; rebuild communities with public investment and ownership; boost wages and union rights; and combat the climate crisis. We will defend free movement and extend migrants' rights.
The Leave vote is three years old. What was meant by Leave was never clear. There is no mandate for any Brexit settlement. Democracy demands the people have a final say.
Labour will campaign energetically for a public vote and to Remain. We support revoking Article 50 if necessary to prevent No Deal.
Capitalism is transnational; we need transnational institutions and workers' movements to challenge it. We will build cross-border alliances to transform Europe with socialist policies, starting with a Green New Deal, levelling up of wages and rights, and ending Fortress Europe. Labour will convene an international conference of left parties, unions and social movements to coordinate this struggle.
---
Frequently Asked Questions (FAQs)
1. What is the process for getting this motion to conference?
Each Constituency Labour Party (CLP) can submit one motion (or one rule change) to conference. The deadline is 12 noon on Thursday 12th September – but you should submit it to your local party now, because you may find that other motions get in ahead of it.
Once it's submitted for debate in your local party, you will need to go along and propose the motion. We can provide support advice for you on what to say – just email info@anothereurope.org. If this is your first time proposing something, don't be shy – whether you're a new member or an experienced one, proposing motions is a key part of Labour's democracy.
2. How do I submit this to my local party? 
How you get the motion submitted depends on your CLP. Some CLPs hold meetings of all of their members – and in this case you should just email it to your CLP Secretary. If your CLP holds meetings via a delegate system, you need to submit it to your ward secretary first, and get it passed in your ward meeting.
You will already have the contact details for your ward and CLP secretary. They are the people who email you about local party meetings. Just copy and paste the motion above into an email, and send it making it clear that you want the motion to be discussed at the next meeting.
3. Can I adapt or change this motion?
Yes, you can – it's entirely up to you what you submit to your local party. Just be aware that you need to make sure that the whole thing is 250 words or less. So if you add anything, you'll need to cut something too.
It's also possible for people to make changes to the motion at the meeting by amending it. This is fine in principle, but be careful that the meaning of the motion doesn't get lost and that the word count doesn't go up.
31st May 2019