44 MSPs signed a letter, organised by Another Europe Is Possible, to Priti Patel opposing the anti-refugee bill. Read the full text of the letter below.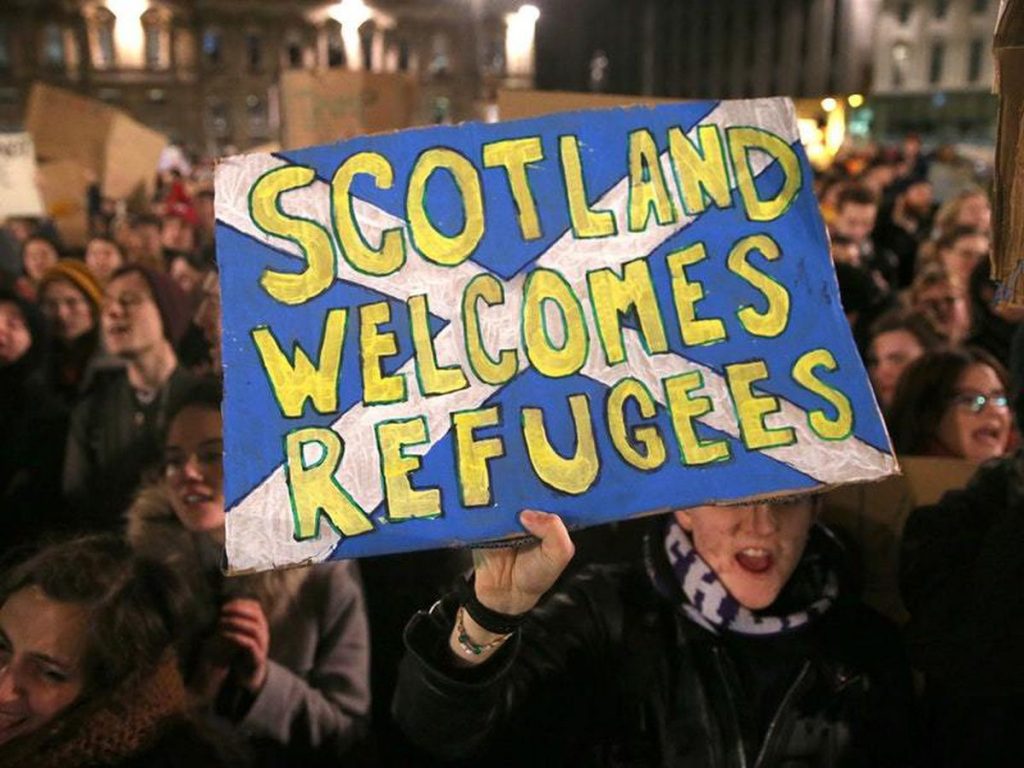 Dear Home Secretary,
We write to raise with you the urgent matter of the Nationality and Borders Bill, which will be considered for its Third Reading in the House of Commons on 7 and 8 December.
As Members of the Scottish Parliament we oppose this Bill. According to migrants' rights experts and the Home Office's own impact assessment, the proposed Bill will do nothing to alleviate the suffering at the UK Border. It won't help create safe routes for asylum seekers – the vast majority of whom have valid grounds for claiming asylum – so they don't feel the need to risk their lives crossing the Channel. It won't offer an option to regularise their status to those who find themselves with lapsed papers but will push them further into exploitation. It won't help families who can't afford the prohibitive costs of passports and visas, including armed forces personnel from the Commonwealth. It won't offer security to EEA nationals relying on an entirely digital immigration status. In fact, it will further criminalise migration, and hang the threat of citizenship removal over naturalised British people in clear violation of international human rights agreements and basic principles of decency and fairness.
Ultimately, the Nationality and Borders Bill is as cruel as it is impractical. It does little to address the urgency of people risking their lives to reach safety in the UK. It also contradicts the shifting public opinion on immigration, which is moving towards a more positive outlook. Despite migration policy being reserved to the UK Parliament under Schedule 5 of the 1998 Scotland Act, we nonetheless feel the urgent need to use our parliamentary platform on behalf of our constituents to speak for the rights of all those living in Scotland and across the UK who will be harmed by this legislation, and to speak on behalf of the majority of Scots who want a rational and compassionate approach to immigration policy.
We urge you to reconsider your proposed Bill and work with cross party representatives, experts from the civil sector and those with lived experience of the immigration system to design a strategy that achieves safety and dignity for all.
Signed:
Paul Sweeney MSP, Glasgow (Scottish Labour)
Mercedes Villalba MSP, North East Scotland (Scottish Labour)
Pam Duncan-Glancy MSP, Glasgow (Scottish Labour)
Shadow Cabinet Secretary for Social Justice and Social Security
Anas Sarwar MSP, Scottish Labour Leader, Glasgow Region (Scottish Labour)
Bob Doris MSP, Glasgow Maryhill and Springburn (SNP)
Paul McLennan MSP, East Lothian (SNP)
Ariane Burgess MSP, Highlands and Islands (Scottish Greens)
Maggie Chapman MSP, North East Scotland (Scottish Greens)
Spokesperson for Justice, Equalities, Human Rights and Economy
Alex Cole-Hamilton MSP, Edinburgh Western (Leader of Scottish Lib Dems)
Gillian Martin MSP, Aberdeenshire East (SNP)
Elena Whitham MSP, Carrick, Cumnock and Doon Valley (SNP)
Richard Leonard MSP, Central Scotland (Scottish Labour)
Monica Lennon MSP, Central Scotland (Scottish Labour)
David Torrance MSP, Kirkcaldy (SNP)
Carol Mochan MSP, South Scotland (Scottish Labour)
Bill Kidd MSP, Glasgow Anniesland (SNP)
Neil Gray MSP, Airdrie & Shotts (SNP)
Collette Stevenson MSP, East Kilbride (SNP)
Jenni Minto MSP, Argyll & Bute (SNP)
Alex Rowley MSP, Mid Scotland and Fife (Scottish Labour)
Evelyn Tweed MSP, Stirling (SNP)
Mark Ruskell MSP, Mid Scotland and Fife (Scottish Greens)
Ross Greer MSP, West of Scotland (Scottish Greens)
Gillian Mackay MSP, Central Scotland (Scottish Greens)
Kaukab Stewart MSP Glasgow Kelvin (SNP)
Siobhian Brown MSP, Ayr (SNP)
Rona Mackay MSP, Strathkelvin and Bearsden (SNP)
Colin Beattie MSP, Midlothian North & Musselburgh (SNP)
Fiona Hyslop MSP, Linlithgow (SNP)
Natalie Don MSP, Renfrewshire North and West (SNP)
Michelle Thomson MSP, Falkirk East (SNP)
Martin Whitfield MSP, South of Scotland Region (Scottish Labour)
Foysol Choudhury MSP, Lothian Region (Scottish Labour)
Pauline McNeill MSP, Glasgow Region (Scottish Labour)
Jackie Dunbar MSP, Aberdeen Donside (SNP)
Claire Baker MSP, Mid-Scotland and Fife Region (Scottish Labour)
Sarah Boyack MSP, Lothian Region (Scottish Labour)
Jim Fairlie MSP, Perthshire South and Kinross-shire (SNP)
Rhoda Grant MSP, Highlands and Islands Region (Scottish Labour)
Alasdair Allan MSP, Na h-Eileanan an Iar (SNP)
Liam McArthur MSP, Orkney (Scottish Lib Dems)
Fulton MacGregor MSP, Coatbridge and Chryston (SNP)
Stuart McMillan MSP, Greenock and Inverclyde (SNP)
Michael Marra MSP, North East Scotland (Scottish Labour)
7th December 2021