Are you ready? Join us for a day of discussion and action planning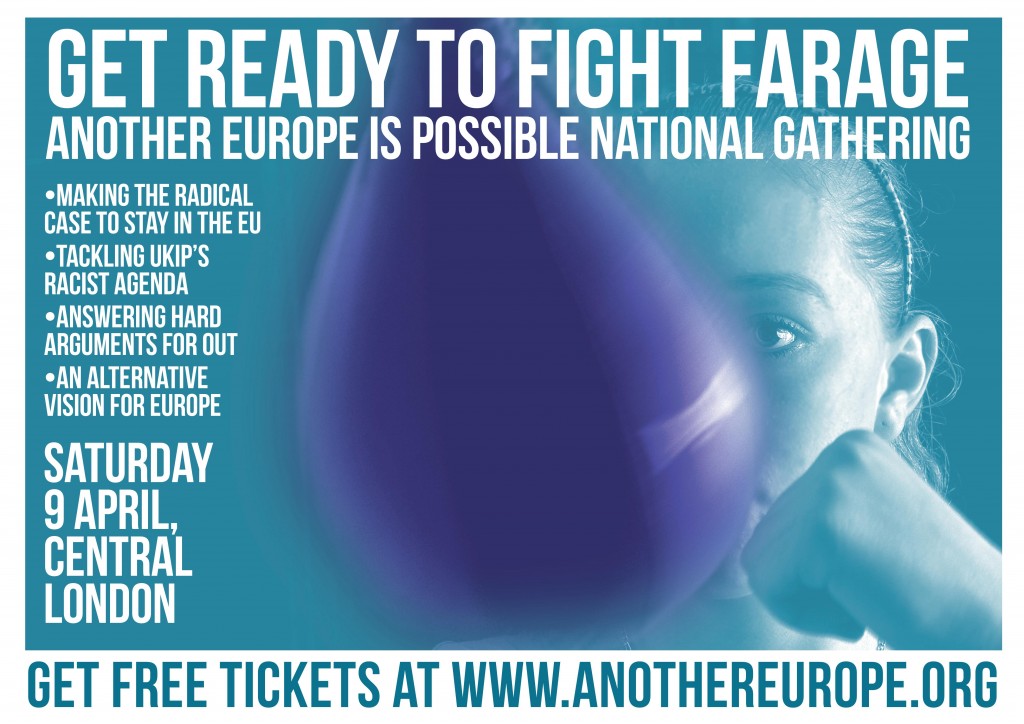 Support the campaign that says 'Stay in Europe to change Europe' – come to our national gathering on the 9th April in London at Bloomsbury Central Baptist Church, 10.30am – 5pm.
A day of participatory workshops to organise a radical campaign for 'In'
• GET INFORMED with teach-in sessions on the major issues at stake for progressives in the EU referendum: workers' rights, environmental protection, TTIP, Greece, migrant and refugee rights.
• ACTIVATE your campaigning with a guide to building and developing the radical 'In' campaign in your local area and promote our message nationally.
• IMAGINE the changes in Europe we want to see. What would a social and open Europe look like? How do we develop a radical politics for the 21st century?
Tickets are free but a donation is requested. They can be found on Eventbrite. 
DOWNLOADS
A5 LEAFLET
A3 POSTER
TIMETABLE
10.30 – 11.00 Registration
11.00 – 11.45
TAKING THE FIGHT TO THE RIGHT
What's at stake in the EU referendum?
With Natalie Bennett (leader of the Green Party), Lucy Anderson MEP (Labour Party), Steve Turner, Unite Asst. General Secretary and TUC Europe Spokesperson.
11.45 – 12.00 Break
12.00 – 12.50
ANSWERING THE TOUGH ARGUMENTS FOR OUT
"TTIP! Greece! Neoliberalism!" How do we fix Europe?
With Sam Fowles (TTIP campaigner and Birmingham Uni), Marina Prentoulis (Syriza UK and Uni of East Anglia) tackling the argument that Greece and TTIP means we should back Brexit, and the discussion will be hosted by Natalie Bennett.
12.50 – 13.20 Lunch
13.20 – 14.10
EUROPE AND CLIMATE CHANGE
What we've won, what we're fighting for
An interactive session with Sam Lowe from Friends of the Earth.
14.10 – 14.20 Break
14.20 – 15.10
TACKLING UKIP'S RACIST AGENDA
Open Europe as the alternative to Fortress Europe
With Zoe Gardner (refugee rights campaigner), Mohammed Ateek, Syrian refugee and activist, and Karolina Partyga, Polish student activist.
15.10 – 15.20 Break
15.20 – 16.20
HOW CAN WE WIN THE REFERENDUM?
Campaigners' toolkit and workshops
Introduction to the campaign and discussion of how we can win. An interactive session with campaign convenor, Luke Cooper.
16.20 – 16.30 Break
16.30 – 17.15
THE EUROPE WE WANT: AN ALTERNATIVE VISION
What do we mean by a social Europe?
With John Palmer, the former Europe editor of the Guardian, Hilary Wainwright, the editor of Red Pepper, and Matt Wrack, General Secretary of the Fire Brigades Union.