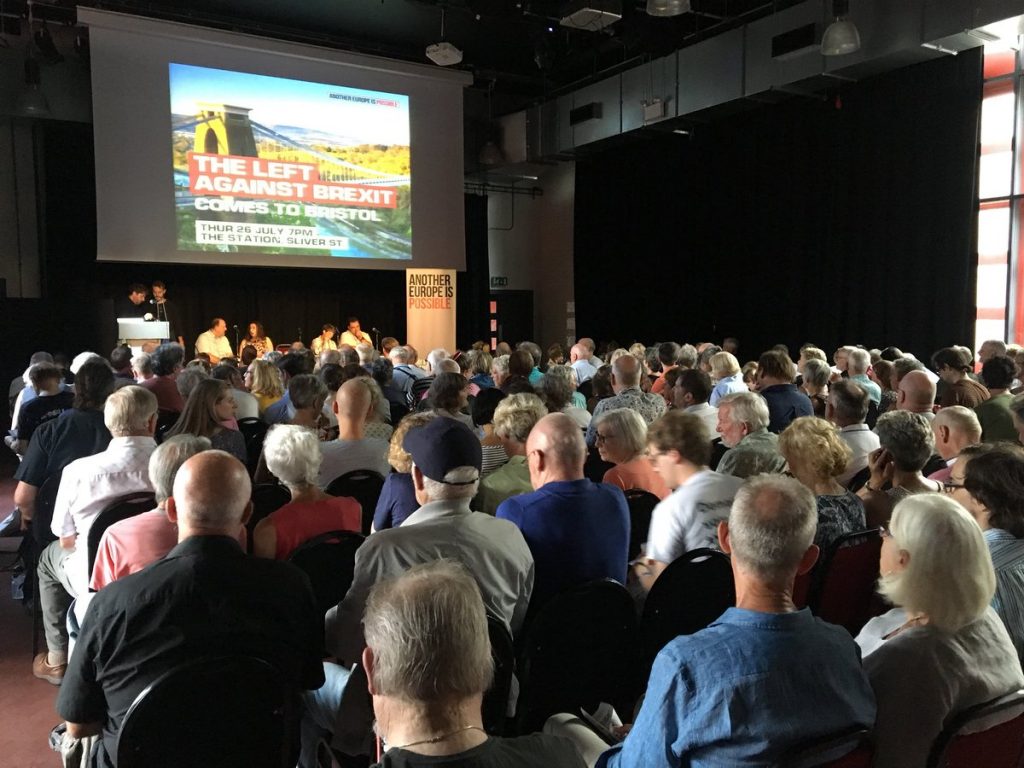 The Left Against Brexit tour has been one of our key projects at Another Europe is Possible this summer. We want to rebuild the left anti-Brexit movement, and we still have everything to fight for!
Today, after big events in Manchester, London, Liverpool, Bristol, Nottingham and Birmingham, we're announcing a load of new locations:
In all honesty, the events so far have been even better than expected. Hundreds have been turning up every night not just to listen to our fantastic speakers, but to genuinely engage, take ownership of the meetings and to plan next steps of the campaign. We discuss all aspects of the Brexit political project – highlighting the threat to our workers' rights, the rise of anti-immigrant sentiment and the capitulation to isolationist thinking that the left must oppose.
Alongside Labour and Green politicians and high profile journalists, we invite a broad panel of trade unionists, as well as activists from across age and experience. Like Callum, our young chair in Liverpool who felt compelled to become politically involved by the threat that Brexit poses to young people. Or NHS workers like Joan Pons Laplana, who knows of the risks to both migrants and our National Health Service. We speak to experts on trade deals and social justice, like Nick Dearden, head of Global Justice Now, and university lecturers who give us the broader framework of why Brexit is happening and what it is a symptom of. Crucially, we are met on every occasion with people both anxious and eager to make a firm, left-wing stand against Brexit. Sitting on the fence is no longer an option for the Left and the real fightback begins once the audience leaves the room.
We offer practical support and loads of materials for groups that want to run stalls, creative activities, or canvassing sessions! We are happy to send speakers to local Labour party or union meetings, and we can also guide you through the process of submitting contemporary motions for conference.
As well as these new dates, we will very shortly be confirming dates in Glasgow, Cardiff, Oxford and Northampton – with even more to come!
We invite you to not just come along, but also to contact us to do some practical organising beforehand, help us rebuild our networks and reach out to the millions we need to convince.
Get in touch at info@anothereurope.org
10th August 2018