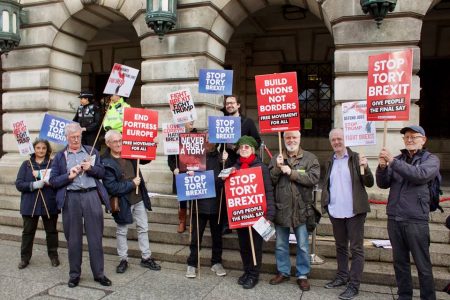 This Friday, Saturday and Sunday, we're once again hitting the streets and campaigning against Brexit. We will hand out thousands of leaflets and have thousands of conversations, convincing Leave voters and those still undecided, and encouraging Remainers to get active. The Parliamentary vote on May's deal is fast approaching – we need to make sure it falls, and then defeat Brexit once and for all.
As always, we will be campaigning explicitly from the left. We won't be defending the status quo but talking about the radical change we really need: redistribution of wealth and power, massive investment in public services, and building unions, not borders.
Get involved now – soon it might be too late.
Below is a list of public events organised by our activists. On top of that, we will have supporters campaigning in over 20 locations. If you want to order our materials for any future activities in your area, drop us an email at info@anothereurope.org.

Ps. Don't forget to tweet your campaigning photos at @another_europe!
Crewe
November 24, 11am  – 1pm
At or close to the junction of Victoria St. and Queensway

Hull North
November 24, 11-13
Lloyds Bank, 63-67 Newland Avenue, HU5 3BG
Facebook event here.
London, Finchley
November 24, 14:30-16:30
Outside Tesco, 21 Ballards Lane, Finchley Central
Facebook event here.
London, Haringey
November 23, 17:30-19
Opposite Wood Green station, outside Nags Head
Facebook event here.
London, Hounslow
November 24, 10-12
Hounslow High Street
Facebook event here.
London, Poplar and Limehouse
November 24, 13:30-15:30
Idea Store, Chrisp Street Market 185 E India Dock Rd, E14 6BT
Facebook event here.
London, Vauxhall
November 24, 13:30-15:30
On the corner of The Cut and Waterloo Road (opposite the Old Vic)
Facebook event here.
London, Walthamstow
November 24, 11-13
Outside The Mall Walthamstow, 45 Selborne Walk
Facebook event here.
London, West Hampstead
November 24, from 11am
Outside Barclays Bank on West End Lane
Norwich
November 24, 12-14
In front of Co-op Food, Earlham Road, NR2 4
Facebook event here.
Sheffield
Rally for Free Movement
November 23, 17:00-19:30
Sheffield Town Hall
Facebook event here.
November 24
Meet at 11:30 at the Gallows Pub 5 Hangsman Ln, Dinnington, Sheffield S25 3PF for doorknocking until 1:30pm. A car is going from Sheffield – if you want  a lift call 07775 763 750
Tavistock
November 24, 12-14
Tavistock Town Square
Facebook event here.
22nd November 2018