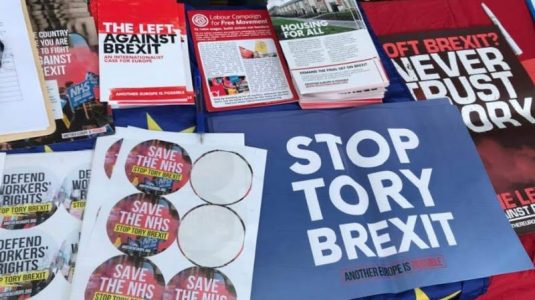 Facebook event: here
To get involved: fill in this form.
Theresa May keeps delaying the "meaningful vote" on her Brexit deal and trying to get wavering MPs on side, using either blackmail or bribes. With just weeks separating us from March 29, we need all hands on deck: to block the deal and win an extension of article 50, making time for a new referendum.
Join us on the weekend of February 23-24. We will be running stalls, knocking on doors, signing petitions and writing letters, and having thousands of conversations. As always, we will be making the case against Brexit from an explicitly left-wing perspective: we want decent jobs, housing for all, a well-funded NHS – not more borders, deregulation and Tory austerity.
We will be particularly focusing on areas where we've identified MPs who might need some convincing to vote the right way – but wherever you live, and whatever you can do, save the date and take part!
Get involved – fill in this form.
13th February 2019