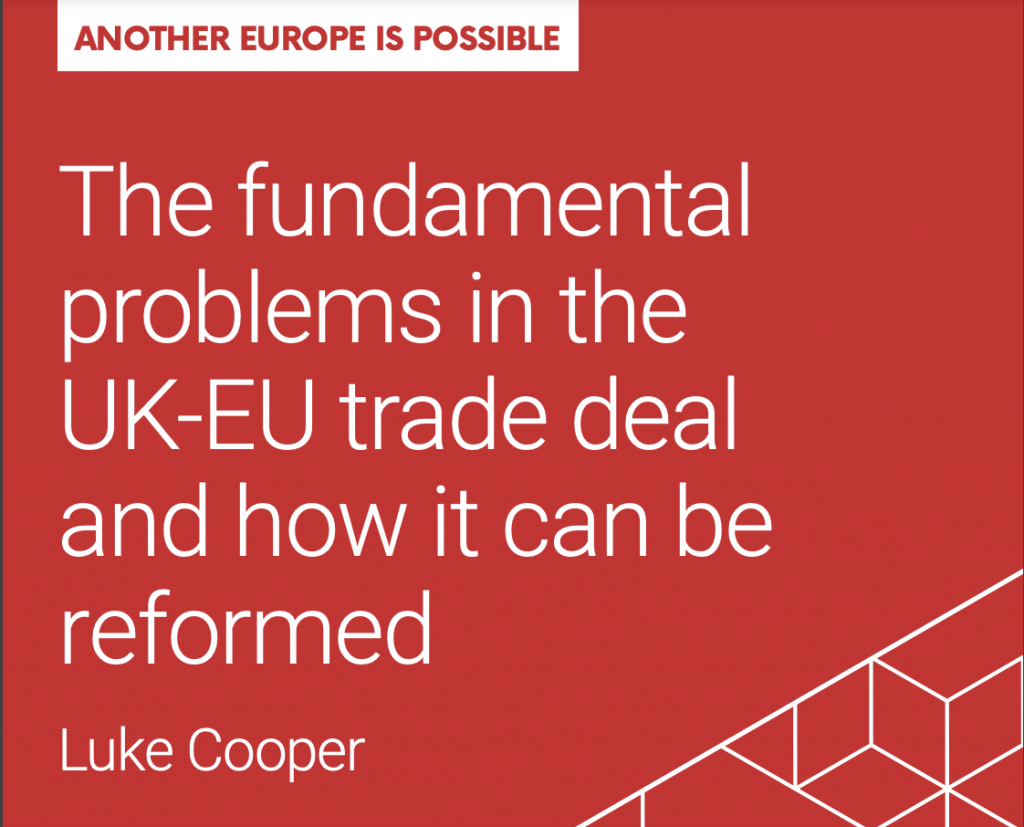 Our new report, The fundamental problems in the UK-EU trade deal and how it can be reformed, identifies a series of critical failings in Boris Johnson's Brexit deal and offers a clear an  concise roadmap for a better relationship with Europe. The report has been backed by figures from across the progressive political spectrum.
Read coverage of the report in the Observer. 
Read the full report online now. 
The report identifies a series of problems with Boris Johnson's Brexit deal:
Risk and uncertainty for jobs and investment arising from the potential for tariffs on UK exports if Westminster uses Brexit to deregulate
A needless duplication of systems and bureaucracy, with new quangos being set up to monitor largely unchanged regulatory frameworks
Crippled food exports and barriers to trade resulting from a lack of agreement on food and animal welfare regulation
Significant loss of rights and mobility for citizens, and a fall in EU immigration rates which will damage the UK economy
Major structural problems in Northern Irish supply chains on food and medical supplies resulting from the UK's exit from the Single Market
Since the 2019 general election, most politicians have shied away from proposing changes or alternatives to the Brexit deal, with Keir Starmer even suggesting that Labour would not alter the text when in government. However, the findings of this report demonstrate a clear, objective need for major revisions to the arrangements, not just to push back against the regressive aspects of Brexit but simply in order for the deal to work on its own terms.
The report highlights the fact that there is overwhelming public appetite for looking again at the deal, with around three quarters of the public saying in recent polls that they expect and welcome at least some changes to the Treaty.
Putting forward the case for a new, progressive relationship with the EU, the report recommends the following changes:
Harmonisation with EU standards, with a no-downgrading principle written into future deals
A review and weeding out of regulatory duplication
Re-joining EU programmes on the basis of common interest e.g. Erasmus and Erasmus+
A mutual rights agreement for UK and EU citizens to reinstate free movement rights
Promoting a democratic economy, with state investment and industrial strategy sitting alongside strong protections against cronyism
The creation of a forum in which to cooperate on human security and foreign policy
Nadia Whittome, Labour MP for Nottingham East, said:
"This important new report shows what a disastrous trade deal the Conservatives have struck with the EU, and why we shouldn't back away from campaigning for an alternative. We need a deal that is committed to high regulation, protects manufacturing jobs, and restores citizens rights and freedom of movement. This isn't about defending the status quo, but delivering the treaty we need to transition to an environmentally sustainable and democratic economy."
Caroline Lucas MP said:
"Brexit was always a profoundly reckless project for our livelihoods and our rights, and it was built on the idea that we would be able to quit the EU and then close the chapter, having "got Brexit done".
"As this report demonstrates, that idea was always a fantasy, and the deal which Boris Johnson has signed has created major structural problems that go well beyond teething problems. While we're now out of the EU, our future is still being decided. If we want a progressive future for the UK, we must have a close, progressive relationship with Europe.
"That means pushing back against the economic deregulation which the Tories so badly want, continuing to have an open conversation about our relationship with Europe and building rather than burning bridges with our closest neighbours."
Mary Kaldor, Professor of Global Governance and Director of the Conflict and Civil Society Research Unit at the LSE, said:
"This new report helps to counter the despair that many of us have been feeling, that Brexit is 'done' and this terrible deal is just the inevitable consequence. It offers a clear roadmap for recovering some of the important practical benefits of EU membership such as high regulation, shared standards, and freedom of movement rights for citizens."
Luke Cooper, an associate researcher at LSE IDEAS, the LSE's in-house foreign policy think tank, and the report's author, said:
"The British public are more nuanced on Brexit than the media and political class give them credit for. So politicians shouldn't run scared of seeking changes to our relationship with Europe. The public support strong environmental standards, support for industry and manufacturing investment and a fair deal for farms and fisheries. They are not obsessed with absolute sovereignty above all else and would happily support a progressive deal that works for the UK.
"The proposal we've outlined is an agenda for change. It provides a basic level of cooperation so that we can answer the major crises of this century: from runaway economic inequality, environmental destruction to the threat of nationalism and authoritarianism. A new settlement between the UK and EU has to rise to these challenges. The Biden stimulus plan in the US shows what is possible. We need a new internationalism globally to unleash this potential."
Read coverage of the report in the Observer. 
Read the full report online now. 
25th April 2021