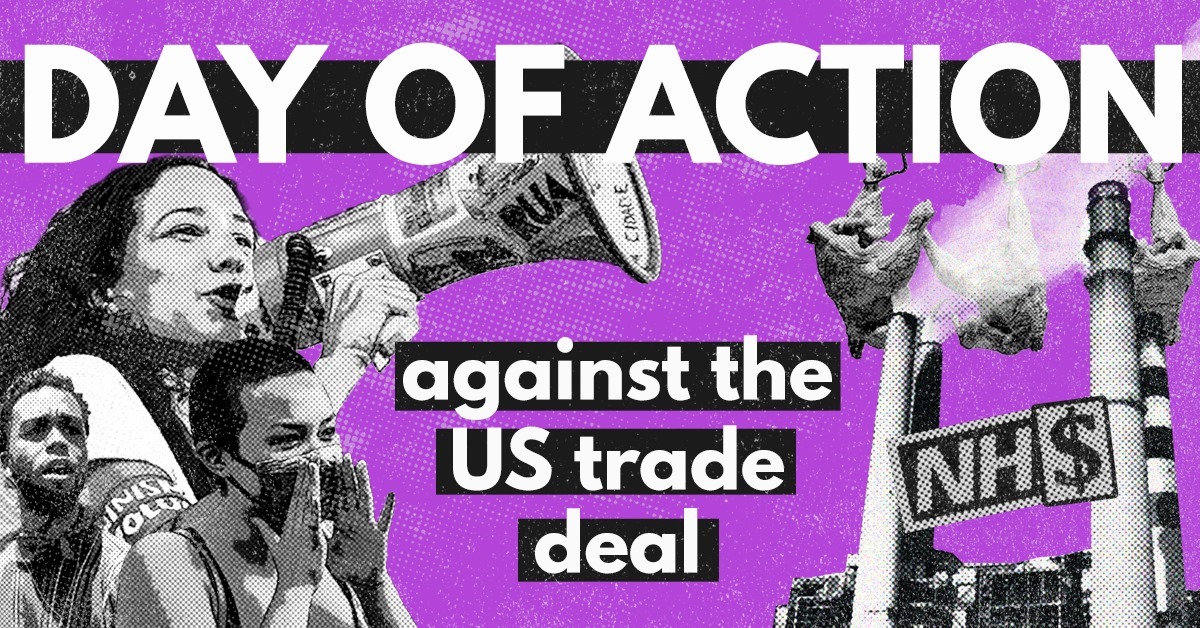 Did you see the 12 October Dispatches programme on US food standards?
Despite the fact we're in the middle of a pandemic, the government is pushing forward with a US trade deal. We know what this means: lower food standards allowing hormone-laced beef and chlorinated chicken to flood the market, deregulation of our environmental laws, putting our workers' rights at risk and permanently opening up the NHS to American healthcare companies.
We can stop it, but we need to make our voices heard.
On October 24, we are joining Global Justice Now, Stop Trump, War on Want, Keep Our NHS Public and others to call a Day of Action against the US Trade Deal.
Up and down the country, people will be standing up for our health, our rights, our planet and our public services.
Sign up here if you want to take part in the Day of Action and get updates about local plans, which might change depending on Covid-19 conditions.
How to plan safe actions
Keeping yourself and everyone around you safe is essential in planning an action.
Please check regularly local guidance:
Use the BBC's handy tool here.
And make sure you verify it with the official government website too! 
Let everyone involved in your action know they must wear a mask, have plenty of hand sanitiser at hand. You might want to mark out social distancing space (tape is very handy for this).
Photo action
Pick a recognisable landmark in your town/area, ideally that you can walk or cycle to.
Bring a banner, get people to bring posters and placards, or order some of our posters here. Depending on how many people you have, and what the local restrictions are, you may be limited in what you can do or you may need to do a risk assessment. 
Designate one person to take photos so they can collate all of them and put them on social media AND send them to us so we can promote them too! Use the #StopTheUSTradeDeal hashtag and everyone involved across the country will be able to see your action.
More tips:
If you live near a beach, why not use some pebbles to write a message about the trade deal on the sand?

Pets make great photos and sign carriers!

Always use the hashtag so you'll be seen by more people.
Street Stall
Trade is not the easiest of subjects but food and health are things we all care about! So a street stall is a great way to start conversations about the dangers of the US trade deal. 
You can make a Halloween-themed placard/banner/poster/pumpkin lantern and ask passers-by to take photos with it (ideally without touching it) or you can have posters they can take away. Think about ways you can minimise handling items or have sanitiser ready.
Our friends at Global Justice now have a fun guessing game you can try playing with people to raise alarm about the dangers of the US deal!
Be mindful of footfall and traffic in where you position your stall. Leave plenty of space for passers-by to be able to avoid you and for people who stop to socially distance too! Mark spots where people can stand to take photos with your creations. 
Ideally, have a rota of people on the stall and keep it to 3 people, so that if each of you are having a conversation there are still 6 people at the stall!
Have plenty of hand sanitiser visible for everyone who needs to use it.
What is allowed
The law at present in England is that normal social activities can only be done in groups of up to six. In Scotland it is groups of six from only two households, and in Wales groups of up to 30 can meet outside. 
However there is an exemption in England for public protest. This can then involve more people (who should still be socially distanced) but there is a requirement to carry out a risk assessment and follow its recommendations. The same exemption does not exist in Scotland, but in practice the police have accepted socially distanced protests – and a similar approach of assessing risks and acting accordingly would be good practice. 
In Wales, as it is still possible for groups of 30 to meet, most local group actions will not be affected. Again, always check for specific local restrictions.
We therefore suggest two options for groups in England and Scotland: 
do actions in pods of up to six (in Scotland only from two households)

if you want to do something bigger, get in touch with us so we can provide advice on carrying out a risk assessment and meeting the legal requirements
Staying in? You can still take part!
Home-made banner drop
If you are unable to go out for the day of action for whatever reason, you can still add your voice and help us have bigger impact. Why not find an old sheet and do your own banner with a message to Johnson and Trump?
You can then 'drop' it from a window where it will be visible to neighbours and passers-by!
Don't forget to take photos, send them to us and use the #StopTheUSTradeDeal hashtag on social media.
Halloween pumpkin carving
If you are feeling crafty, why not make your own Trumpkin (there's plenty of How To videos on the Internet, but here's a good one)? You can combine it with a poster with a trade message, or carve your slogan into it as a lantern.
Don't forget to take photos, send them to us and use the #StopTheUSTradeDeal hashtag on social media.
Pass a motion
You can take a motion on the deal to your local party or trade union. Most of them are meeting safely online so all you need to do is check out this template and send it your secretary.
Write to the local paper
You can also use the points in the motion as the basis of a letter for your local newspaper. You'll be surprised how many people who will never see a social media campaign pick up your piece!
Join the online rally
There will be an online rally on Saturday evening, with Emily Thornberry, Sian Berry and others (register here) and a socially distanced protest in London, Parliament Square at 12 noon – join the Facebook event here.
There's plenty more you can do – order one of our posters and leaflets and put on your door. Take a selfie with a sign, record a little video about why it matters to you! Talk to your friends and family about the US trade deal and the threat it poses. Read Nick Dearden's book (available online), share the Day of Action and help us build a movement that will #StopTheUSTradeDeal!
13th October 2020