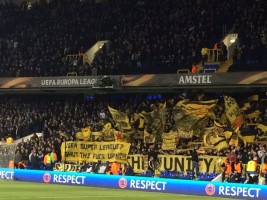 When the Borussia Dortmund fans held up their brilliant banner at White Hart Lane on Thursday night, 'UEFA Super League? Shut the Fuck Up', for many fans in England too the response would be 'you took the words right out of our mouth'. Theirs is a vision of another Europe which they passionately believe is possible. A passion barely present in the establishment in/out Europe campaigns mired in their competing versions of status quo politics.
Good Europe or bad Europe? Instead of taking boring old Westminster or Brussels bubble politics as a starting point, how about football. The old European Cup was the best cup competition in the world – sorry FA Cup sponsored by wotsit – bar none. A simple idea made good, only the league champion of each European nation in an unseeded knockout competition. Double-header home and away legs gave the bigger clubs some advantage but built into the campaign those European glory nights for stay-at-home and travelling fans alike. What was there possibly not to like?
Well the football authorities and rival continental club sides didn't like the near total domination by English club sides in the mid 1970s to mid 1980s. For an incredible run of 8 years, 1976-84, Liverpool (4 times), Nottingham Forest (twice) and Aston Villa won the trophy. The only break in the sequence being Hamburg in '83, and the player at the core of their trophy-winning side? One Kevin Keegan.
The '85 Heysel final outrage involving fighting Liverpool, Juve fans and a decrepit stadium resulted in an indefinite ban on English club sides entering European competition. Following the lifting of the ban after Italia '90 the English dominance has never been the same again.
Of course shifts in dominance in team sports are natural and to be welcomed, Real Madrid in the 1950s, Ajax in the early 1970s were two other periods dominated by a single club let alone one country. What is entirely unnatural in sport is to seek to reduce the risk of competitive unpredictability by fixing the format. This is precisely what happened in '92 when the European Cup became the Champions and Rich Runners-Up League. The combination of a mini-league group stage and seeding almost overnight eliminated the risk of so-called 'big' clubs going out early, a giant-killing which provides the magic of cup competitions was got rid off in favour of risk-aversion.
And to make matters still worse for exactly the same reasons, reducing competitiveness in favour of maximising profit, in 2004 the knockout UEFA Cup was replaced also by a group stage competition to become the Europa League for no obviously good reason. Perhaps worst of all previously in 1999 the perfectly good Cup-Winners Cup was simply abolished.
Choice and modernisation are the ready-made watchwords of contemporary politics. They are weasel words, devoid of meaning. In European football they have come to mean the rich clubs getting richer at the expense of competition. A European Superleague, according to well-founded rumours, remains a serious proposition. Those rich runner-ups who can't even make third or fourth in their domestic league but come top in brand value and disposable income will be guaranteed entry as of inalienable right.
It was fit and proper that the banner of resistance was raised at White Hart Lane. Spurs are a club who won the league and cup double in '61 and went on to become the first English club to win a European trophy, the Cup-Winners Cup in '63. Despite all that the club described finishing 4th in the league 2009-10 and thus qualify for the Champions League as the club's 'greatest ever achievement'. Fourth? Fourth! How does the song go? 'If you know your history…'
The lesson of history of course should be that as with all things turbo-capitalist be careful what you wish for. Steeled in cup competitions that in those days actually meant something those British club sides that grabbed one European trophy after another in the 1970s and 80s were superbly well-equipped for the knockout format. Pre the '85 ban the 1980s looked like this UEFA Cup won in 1980-81 by Ipswich Town, 83-84 by Spurs. The Cup Winners Cup, won 82-83 by Aberdeen, 84-85 Everton. Compare to this since 1990 just the two Europa League wins, Liverpool in 2001 and Chelsea 2013.
Celtic's Lisbon Lions triumph in '67 to lift the European Cup followed the next year by Man United winning the same competition in '68 was more of a one off. But nevertheless had a cultural currency that a Champions League victory, and most definitely a Europa League victory, seems to lack. Capital never learns, money, thankfully, isn't everything.
The big squeeze of on the one hand a laborious group stage and on the other an over-arching importance domestically to secure a Champions League place has reduced British dominance. And at the same time regardless of the huge wages on offer in the 'best league in the world' (sic) Europe's best players are by and large playing elsewhere. Messi, Neymar, Suarez, Ronaldo and Bale in Spain. Pogba in Italy. Lewandowski, Hummel, Müller in Germany, Ibrahimovic in France. And plenty more of that kind of quality that lot came from few in the better-paid Premier League can match. Once more, money isn't everything.
The Dortmund fans know their football, they know what it means to be fans not consumers. A club that hasn't sold its soul along with lock, stock and barrel to the highest bidder. They have one of the biggest standing terraces in European football, where they can drink too.
What's all this got to do with the Euro referendum? Plenty. If in, out or shake it all about is to mean anything it means the so-called 'island race' understanding that Europe is where as nation state(s) we came from. To engage with and embrace the continental as so many of us do in every sphere of life, including football, bar the body politic. Not to smudge the differences but to appreciate the commonalities and hold on to only those differences that truly matter.
'UEFA Super League Shut The Fuck Up' – that will do nicely. Testament to a popular internationalism. For the fainthearted perhaps the Dortmund fans should mind their language but make no mistake, not a single word, or sentiment, was lost in translation. Danke!
Mark Perryman is the co-founder of Philosophy Football. His new book 1966 and Not All That is published in mid-May.
19th March 2016