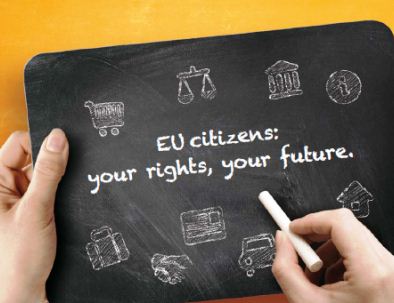 OVER 200 GENERAL ELECTION CANDIDATES INCLUDING JEREMY CORBYN, TIM FARRON, CAROLINE LUCAS, ANGUS ROBERTSON, AND LEANNE WOOD HAVE BACKED THE HOME IS HERE PLEDGE.
Millions of Europeans in Britain fear they will lose basic rights over the next 2 years. Used to thinking of themselves as citizens with some say over their future, many now feel scared and uncertain, their lives more precarious.
For these Europeans, home is here. They have decided to live and work and study here, and indeed they did so at a time when they weren't really regarded as migrants, but citizens in the same political union as ourselves. Yet after a single, close vote in which they weren't able to participate, their status has changed. The majority voted, or so we've been told, to disenfranchise the minority.
The loss of rights isn't just about the right to stay in the UK. So far, it's hard to imagine mass deportations of EU citizens from these shores. But life could get significantly harder for people nonetheless.
Currently EU citizens have the right to be joined by family members, even if they themselves come from outside the EU. They have the right to equal treatment when it comes to employment and work benefits, to welfare, to housing, to pensions, and access the NHS. All of this could fall away.
Many EU citizens are already starting to apply for permanent residency, and are discovering what so many non-EU citizens already know; that the UK's immigration system is as bureaucratic, difficult and unwelcoming as it possibly can be. It's designed that way, and the current Prime Minister would like to make it harder.
Increasingly employers, businesses and landlords are forced to play the role of immigration officers. Even a whiff of uncertainty about residency status would threaten your job, your bank account, your home.
And anyone who says this is just the paranoid ramblings of a 'remoaner', look at the cases that have already happened; EU citizens who apply for permanent residency being rejected and told they need to leave the country. Imagine the chaos, and the fear, when the process really starts in earnest, with 3 million people trying to find security.
Imagine also, how we would react if a developing world country suddenly threatened removal of so many rights from so many citizens in one go.
Perhaps at least as distressing as the insecurity, is the lack of interest which so many politicians and sections of the public have shown. Three million Europeans – our friends, family, neighbours, colleagues, doctors, teachers among them – have been treated as bargaining chips to be used in a political chess game with Brussels. When they speak up for their rights, they are accused of frustrating the will of the people.
This should already be a central theme of the General Election. That's why Home is Here launched, calling on all political leaders to guarantee, unconditionally, that EU residents in the UK can remain here with their rights intact. So far the pledge has been signed by Caroline Lucas, Leanne Wood, Tim Farron, Angus Robertson and Jeremy Corbyn, along with 150 parliamentary candidates from all parties. Theresa May, yet again, is notable by her absence.
But centre-left parties have something to learn too. It's true that EU citizens and indeed migrants in general, make a very significant net contribution to the economy, and especially to our public services. But the key issue is rights.
For all the problems of the European Union, internal free movement of people is one of the most radical human rights experiments of modern times. Free movement explicitly does not judge people on the basis of their value to an economy. Rather movement – to live, work, love, study – is a right. This marks it out from virtually all other migration system in the world, which deal with people in terms of their economic value. It doesn't excuse the EU's barbaric approach taken at Europe's borders – but the answer is to extend an immigration system based on rights, not to eradicate it altogether.
It's ok for a democratic country to make a decision which undermines the economy. What's not democratic is to simply remove rights. if a government – any government – gets away with stripping away rights from one group, they won't stop there.
The idea, expounded during the EU referendum, that reducing EU migration would allow a 'fairer' approach to migrants coming from elsewhere has been shown to be as big a lie as the £350 million for the NHS. The Conservative's now promise severe cuts in immigration, effectively closing the borders, for the purposes of people if not big business.
Migrant or not, we should all be worried. Failure to guarantee the rights and status of EU residents is just the start of the most dangerous constitutional rewrite in modern British history. Opposition parties need to make crystal clear that basic rights are at threat here, not simply our economic well-being.
We must stand up for EU citizens now, and make sure we are not giving the next government a free hand over our rights.
VISIT THE HOME IS HERE WEBSITE TO SEE THE FULL LIST OF CANDIDATES WHO HAVE BACKED THE CAMPAIGN. 
7th June 2017