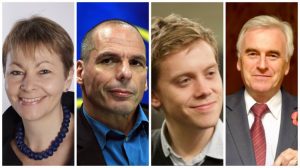 It's all happening on Saturday 28th May in the Logan Hall, Bloomsbury, London.
Make sure to attend and register for the event here.
—
A new movement is forming with a simple message: 'Stay in Europe to change Europe.'
On 23rd June, Britain will vote on whether or not to leave the EU. It's going to be close, and radical and progressive voices may well decide the outcome. We need to act – not just to win the refrendum, but to fight for the Europe we need.
Join Yanis Varoufakis, Caroline Lucas, John McDonnell, Owen Jones and a host of other campaigners to discuss and debate the ideas we need to win.
With workshops, skills training, and participatory breakouts.
Sessions include:
• Reigning in corporate power: tax and financial reform
• Defending free movement, ending fortress Europe
• Organising across borders for workers' rights
• Resisting power: Europe and human rights
• Preserving the future: environmental sustainability
Organised by
Another Europe Is Possible
anothereurope.org
info@anothereurope.org
International partner
Democracy in Europe 2025
Diem25.org
info@diem25.org
Media partner
Open Democracy
Opendemocracy.net
info@opendemocracy.net
2nd May 2016