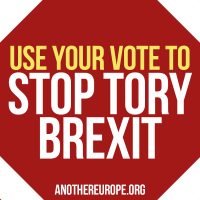 Figures including Clive Lewis and Caroline Lucas have joined a campaign urging voters to "use your vote to Stop Tory Brexit".
The direct intervention into the election campaign is being launched by Another Europe is Possible, the Remain campaign whose affiliates included the grassroots Labour grouping Momentum and the Green Party.
Using its database and a network of local activists all over the country which during the referendum delivered hundreds of thousands of leaflets, Another Europe is Possible will raise the alarm over what a Tory victory could mean for Britain.
Campaigners are focussing on threats to workers' rights, the right to remain for EU migrants, and human rights in a hope to sway voters away from the Conservatives. The campaign will also focus on the Great Repeal Bill and the Tories' intention to give themselves sweeping powers to strip away rights and protections without a vote in parliament during the Brexit process.
Clive Lewis, Labour MP for Norwich South, said: "The Tories' plan for Brexit is a plan for a race to the bottom which we will all lose – with weakened human rights, rampant deregulation, and a diminished Britain. It's an extreme agenda which will not only isolate our country but fatally undermine its democracy, weakening parliament and giving the government unprecedented power to pursue its agenda. We have to wake up before it's too late – and vote to stop Tory Brexit."
Caroline Lucas, Green MP for Brighton Pavillion, said: "There's absolutely no doubt that Brexit is central to this election. The Tories' extreme agenda would see the UK leaving the single market, ending free movement and endangering our social and environmental protections. This damaging plan must be resisted and we urge people across to use their vote to reject an extreme Brexit."
Michael Chessum, national organiser for Another Europe is Possible, said: "Throughout the election campaign, we will be sounding the alarm about what the Tory plan for Brexit means. Senior Tories have openly their intention to deregulate the labour market, scrap human rights and use EU migrants as bargaining chips. The threat now posed to basic rights and freedoms, and to the living and working conditions of ordinary people, is unparalleled – and it is vital that voters know that."
ENDS
NOTES
1. For more information please ring Michael on 07964791663 or email info@anothereurope.org
2. Further information about Another Europe is Possible can be found at www.anothereurope.org
3. A leaflet for the campaign can be viewed here: http://www.anothereurope.org/wp-content/uploads/2017/04/useyourvote-leaflet-nobleed.pdf
28th April 2017