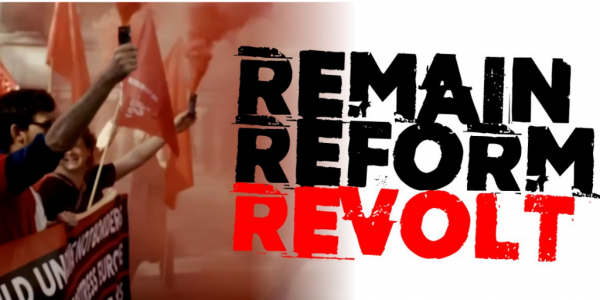 Brexit is a nightmare made by the political establishment. It's an attack on working class people and our communities. It's suffocating our politics and poisoning our society.
We can end this nightmare and transform Britain instead. By fighting together, we can win decent homes and jobs for everyone. We can replace racism and division with hope and solidarity. By using and reforming structures like the EU, we can get an international Green New Deal to save the planet and tackle inequality.
This summer, Another Europe Is Possible is launching a new campaign: Remain Reform Revolt. We will be organising a nationwide series of events to build our capacity and grassroots organising all over the country so that when a public vote happens, we're ready.
Here are three things you can do to help:
1. Up and down the country, we are organising Remain, Reform, Revolt public meetings, with exciting speakers including Clive Lewis, Caroline Lucas, Paul Mason and grassroots organisers. You will soon be able to find confirmed locations here. Get in touch at info@anothereurope.org if you can host one in your area!
2. Join the Remain, Reform, Revolt day of action on Saturday July 6. Across the country, our activists will be running stalls, knocking on doors and campaigning against Brexit. Fill in this form to let us know if you can organise an activity in your area – we will send you materials and, where possible, get you in touch with other campaigners near you.
3. To make this campaign a success, we need money. If you can, please chip in here to help us fund our events and materials. Donate generously – we can't do this without you.
Only a message of hope and solidarity can beat Brexit, and we aren't waiting for a public vote to happen. We're starting the campaign now. Be part of it.
24th June 2019