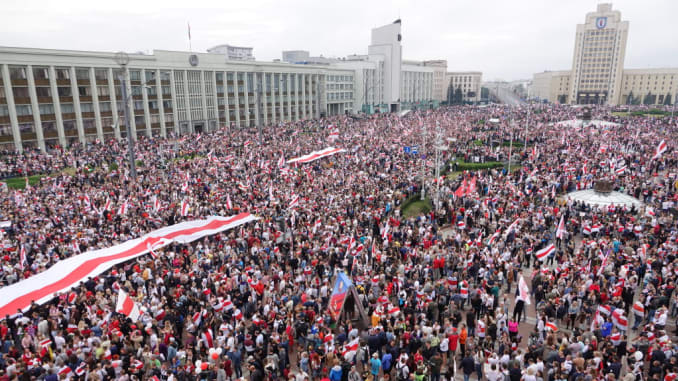 As activists, writers, trade unionists and politicians on the left in the UK, we are writing to extend our solidarity with the people of Belarus in their struggle for democracy. Since the rigged elections on 8th August, millions of Belarusians have defied the regime of Alexander Lukashenko.  
The strikes and mass protests taking place across Belarus are not just an important means of defying Lukashenko. They are an inspiration to workers and progressives across Europe and the world. 
Our solidarity extends to all those who are struggling for democracy, the rights of minorities, and for the right to freely dissent and organise in Belarus. We note also the special role of organised workers in the uprising, and we send our solidarity to them in the face of persecution and strike-breaking by the regime. 
We utterly reject the idea that democratisation, or a more open society, need be a move towards neo liberal economic reforms. Only by organising together as a mass movement can ordinary people guarantee and extend democracy in society and the economy. 
We will organise in solidarity with the people of Belarus. We call on the left, progressives and the trade union movement in the UK and across the world to do likewise, and to oppose the introduction of repressive forces from outside Belarus.
John McDonnell MP

Nadia Whittome MP

Caroline Lucas MP

Owen Thompson MP

Kenny Macaskill MP

Virendra Sharma MP

Apsana Begum MP

Clive Lewis MP

Kate Osamor MP

Sam Tarry MP

Mick Antoniw AM, Member of Welsh Parliament

Paul Mason, journalist

Richard Corbett, Shipley, former leader of Labour MEPs

Michael Chessum, Another Europe is Possible

Ana Oppenheim, Momentum NCG 

Peter Tatchell, human rights activist

Laura Parker, former Momentum national coordinator

Zoe Williams, London, journalist

Pasco-Q Kevlin, Labour Party

Anthony Ingle, Musician

Peter Buckley, Oldham West and Royton Labour CLP

Robbie Stamp

Joseph Healy, Anti Capitalist Resistance

Anthony Cable 

Sarah Windrum 

Scarlett McGuire, London, Journalist

Shaista Aziz, Oxford Labour Councillor, Stop Trump coalition

Simon Bean

Joseph Ingleby

Eleanor Gibson 

Philippa Rathborne

Bill Starling

Roy Seaman 

Deborah Jay-Lewin

Lorraine Shaw, Member of the Labour Party 

Ken Barker, Unite (Cardiff General Branch)

Daniel Randall, Assistant Chair, RMT Bakerloo branch (pc)

Howard Harris

Ian Fairbairn 

Julian Evans, Bristol, MCIJ

Sandro Montagner, London

David Taffs, Dartford

Mike McNulty, Edinburgh, SNP Member

Gemma Driver, West Sussex, Development Consultant

Viv Seears, Maentwrog

Diana Morgan, Leatherhead Surrey England

Huw Morgan, London

Nigel Hawker, Yorkshire

Brian Fowler, Lancashire

Tim Guy, Milton Keynes

Miles Newman, Lancaster

Morgan Gordon, London

Darius Samadian, Harrogate  

Thomas Grayson-Smith, London 

Caroline Hering, London

Nick Maiden, Chester

Ian Callister, Ashford 

Juliana Grundy, Wigan, UNISON and Labour Party 

C.fraser, Hertfordshire, Anti Facist

Stephanie Bowgett, Huddersfield

Kevin Edwards, Brighton

David Cooper, Crawley

Stephen Harvey, Southampton 

Lyndsay Wheble, Bristol 

Sonia Rawlinson, Burnley

Bridget Carrington, Dereham, Norfolk, Labour Party member

Di Murray , Barnstaple 

Katie Blood, Tamworth 

Richard Duployen, Abingdon-on-Thames, European Movement, Oxford Region Branch

John Camp, London

Timothy Mullen, Stoke-on-Trent

Jennie Cook, Southbourne

John Collins, London

Edna Mullen , Stoke-on-Trent

Shelley Jackson , Towcester 

Irena Paxton, Cardiff

Keith Reader, London 

Simon Evans, London, Labour Party

Jenifer Wates, Woodstock

Ruth Appleton, London, Labour Party Delegate from Camden Unison

Dr Christopher Wilkinson, Rhymney

Martin Huebscher, Tunbridge Wells 

Alison Rees, W Sussex

Achsa Griffiths, Sandwich 

Susan Mosedale, Glasgow 

Philip Hylton , Warrington 

David Sylph, York, Human rights activist

Joan Green, Cambridge

Richard Pierson, Yorkshire  

Anthony lilly, Battle, Engineer

Stan Smith, Nottingham, Labour Party member

John Warburton, Mold

Michal Guest Rob Payne, Southport 

Keith Leech, Rotherham 

Hannah Cole, Oxford 

Daniel Nichols, Romford, Political Officer, Romford Labour Party

Oliver Senton, Kent

Roger Coates, Silesia, Retired

Lyn Parry, Barcelona, Ex social worker

Anne Davidson, Surrey

James Dickins, Leeds 

Diane Collers, Wolverhampton 

John Coombs, Twickenham, Lib Dem Councillor Richmond upon Thames

Angelika Stapf, London 

Serena Newman, London 

Darren Carter, Haslemere

John Hadwin, Guildford, trade unionist and member of the Labour Party

Deborah Fyrth, Sunbury-on-Thames

Alex Howe

Trudy White 

Lisa Thorne

Philip Hyde

Russ Naylor, Priest (Church of England)

David Ian Brown

Kerry Greig

Simon Pearson, Anti*Capitalist Resistance 

Joanne Callaghan, Chair, Weaver Vale For Europe

Anna Saverimuttu

Prof. David Hutchings

Rosie McKenna, Unison Member, candidate for Young Labour International Officer

Dr Jörg Schaub

Linda Burns

John Owens 

Deborah Edwards 

Barry Winter

Alena Ivanova, London, Bethnal Green and Bow Labour Party Women's Forum secretary, IWGB

George Nicholson, Sheffield, UCU

David Howarth, Wigan

Veera Ahlbom , Turku, 

Christopher Barrett, Aups, France

Conway Davies, St Clears

Julie Ward, former Labour MEP

Ian Callister, Ashford

Helen Grogan, Stoke-on-Trent, Staffs, Deputy Chair of European Movement Staffordshire

Katharine Cawsey, Fairford

Felicity Taylor, London

Susan Lewis, London 

Wilma McHardy

Tom Wilkes, Malmesbury

Peter Visscher, Derbyshire 

Almuth Ernsting, Edinburgh

Steve Thomas, Cheltenham 

Barry Gills, Newcastle upon Tyne, Climate Emergency Officer, Newcastle Central CLP

Joe Mahtani, Coventry

Gabrielle Haynes, Bexhill-On-Sea 

Evelyn Forgie, Bedford

Mike Mulliner, Belper

Lorna Reith , London 

Janet Shapiro, London , National Pensioners Convention 

Alistair Cairns, Edinburgh

S M Sansbury, London, Grandmother

Lorne and Maureen Anton, Ayton, Scotland, Trade Unionists, Socialists, Scottish Nationalists

Matthew Godwin, Manchester

Valerie Jeffries, Faversham 

John Latham, Birkenhead

Janine Booth, Lewes, East Sussex, trade unionist, socialist, writer

Sarah Uppard, Exeter

Alex Howe, West Sussex UK

Howard Lane, London

David Birch, Stevenage 

Carole Griffiths , Peterborough  

Michael Cook, London

hywel ceri jones, Penarth

Rosamund Derry, Trethevy

Dr Tom Hubbard, Kirkcaldy

Andrew Woodall, Leeds

Steve Hirschhorn, Francavilla Fontana, Fellow of the Higher Education Academy

Sandra Roberts, London, Labour Party

Philip Cerny, York, UK, Professor Emeritus of Politics and Global Affairs, University of Manchester and Rutgers University

Ricky Thamman, Newcastle, Psychologists For Social Change

Linda Robinson, London

Dennis Hughes, Bristol, Labour Party 

Norma Hornby, Cheshire

Felicity Bevan

Edward Halsted, London, Equity

Michael Dennison , Whitley bay

Reuben Lane, London, BECTU Union

Anna Schiffer, Castle Cary

Mr Paul Rushforth, Barton upon Humber

Valerie Dann, London

Steve Crown, Newcastle upon Tyne

Becky Payne, London

Andrew Garms, Newcastle upon Tyne

Ruth Fryer, Canterbury

Mike Rowley, Oxford, Labour Councillor

Eileen Scholes , London

Mike O'Neill, Oxford, Labour Party Member

Carole Elliott, Cottingham

Dion Winton-Polak, Aberystwyth

Ann Marie, Renfrewshire

Lesley Paterson, Cupar 

Susan Wood, Chipping Norton

Graham George, Northampton

Dr Joseph Baxter, Nottingham, Labour Party, UCU

Mary Brighouse 

Dr Andy Hill, Gainsborough UK, Computer Systems Consultant

Jess Carrington, Norwich, Unison Rep and Labour Party Member 

Sharon Bracher, Havant

Alex Carro, London, 

Philip Rowlands , Kettering , Labour 

Crispin Avon, Copenhagen

Hannah Kemmett, Durham, Labour Party member

Ruthi Brandt, Oxford

Jennifer Reznick, London 

Paul-Francois Tremlett, Bicester 

Timothy Block, London, Equity

Hayley Clark, London

Sheila Gavagan, Bolton, Retired teacher

Jill Oakes, Banbury

John Ratcliff, High Wycombe

Thomas Gilbert, London, Labour, UVW

Dennis Penaluna, Nottingham, Organiser, Nottingham Secular Society

Barrie Dalby, Rotherham

Alan Ducklin, Gorebridge

Amy Ellis, Suffolk

Lyn Nesbitt-Smith, Brighton

Malcolm Imrie, North London, Translator and editor

Luke Cooper, London / Islington, Consultant researcher, LSE CCS 

Alistair Russell, Darlington

Philip Inglesant, London, UK, Oxford University UCU equalities officer

Anne Wyatt, York

Eleanor Dennison, West Yorkshire

Stephen Chase, Newtown St Boswells

Keith Lindsey, Winnenden, NGO leader

James Barling, Lincoln UK

Carol Broom, Banbury, Green Party,  Humanist, Extinction Rebellion

Ken Watkins, Rochester, Green Party member 

Jan Holm, Boat of Garten, 

Ian Andain, Liverpool 

Geoff Ryan, Ammanford, Carmarthen East and Dynefwr CLP

Daniel McDowell, Ludlow

John Albert Wyatt, York

Tom Grieve, Romsey

Carol Ware, Folkestone

Ewa Maydell , Dumbarton

Geraldine Glynn, Steeple Aston 

Peter Brimson, London 

Geraldine Cowan, London, Unite

Dai Hawkins, Nantmel

David Grundy, Lancaster, 

Caroline Wild, East Grinstead 

Mark Whyte, York

Peter Nowland, Oxford

Beth Martin, Wadhurst

Carola Hill, Street

David Chandler, Frome

Sarah Jones, Milton Keynes 

Michael Shaw, Huddersfiel

Karl Holden, Lancaster

Stephen Midgley, West Calder

Christian Nielsen, Liverpool

Melinda Crook, Leominster 

Tim Mohun, London

Eileen Scholes , London

Patricia Kelly, Manchester 

James Nicholson, Southampton

Peter Murry, London, co-secretary Green Party Trade Union group

Anna Smallwood, Hope Valley

Sarah Aspinall, York

Mary MacCallum Sullivan, Ardrishaig, Mary MacCallum Sullivan, Psychotherapist

Caroline Cattermole, Lancaster, Green Party, Extinction Rebellion

John Clark, London, Labour Party activist

Chris Allen, Leicester

Miranda Willams, Bolton

Edward Marks, London 

Trevor Gardner, Exeter 

Cheryl Lloyd, Newcastle upon Tyne

Diane Murphy, Ellesmere Port

Eleanor Harrison, Southampton

Lorraine Taylor, Denbigh

Chris Parker, Nottingham 

Robin Irving, Newcastle upon Tyne 

Gidon Cohen, London

Mike Cowley, Edinburgh North and Leith Labour Party Executive

Negar Khalesi, London

Lawrence Matthews, Manchester

James J Mercer, Langton Matravers

Nicole Wevers, London

Laraine Berry, Wellingborough 

Lydia Laurence, Drayton, Langport

Mark Findlay, Brighton, Unite, Brighton Pavillion CLP

Lewis Jones, London, UK, University & Colleges Union

Matt Lewis, London 

Hugh Daniels, Henfield, West Sussex

Chris Traynor, Liverpool

Cecilia Weston, Dukinfield 

Frankie Fisher, Manchester 

Raymond Pringle, Dunfermline 

Eleanor Llewelyn, Swansea

Keith Richards, London

Judy Atkinson , London , Mutiny

Caroline Spencer-Palmer, Colne, MRCGP

Denis Buckley, Tonbridge 

Richard Cohen, London

Christopher Cheatle, Cambridgeshire, Humanitarian Democrat

Patrick Newman, Stevenage, Labour Party

Paula Whiteside, Sheffield

Kengho  Fong, Edgware

Ann Prosser, Crawley 

Tom  Faulkner, Eastbourne, NUJ

Tim Evans, Stockport

Brian & Maureen Fraser-Duffield, Dunbar

Mike Phillips, Rochdale

Ian Woolcomb, Bristol, Labour Party member

James Bailey, London

Thelma Stone, London 

Judie Gannon, Oxford 

Cath Attlee, London

Louise McIntosh , Bath UK, Social Worker 

Magi Young, Exeter, Exeter Labour Party

Neville Ingley , Burton on Trent 

Ben Lewis, London

TJ Milburn, Exeter, trade union organiser and activist

Timothy Kraemer, London

John Taylor, La Tour Blanche

Anthony Stapleton, Bromley-by-Bow

Richard Booth, London

Simon Phillips, London

Tom Kinally, Dover

Natalie Ratner, Halifax 

Dr V Griffiths, Cornwall

David Worrall, Watford 

Jonathan Reder , London

Abel Harvie-Clark, Newcastle upon Tyne, Unison, Newcastle East CLP

John Copland, Lanark

Glenn Martin, Walsall West Midlands 

Mike Fitzgerald, Newcastle upon Tyne, Retired lecturer

Simon De Cogan, Ayr

Steven Shepherd, Aberystwyth

Maude Dews, Marseille, France

Eileen Dale, York

John Weddell, Newcastle upon Tyne

Lesley Gould, London 

Colin Kendall, Bury

Chris Jefferies, Bristol

Robert Mckenzie , Peterborough 

Felicity Allbrooke, Hove

Maxwell Hough, Wigan

David Klemperer, London

John Duncan Murray, London, Architect

Lennaart van Oldenborgh, London

trevor hayes, St Clementine

Alan Gilchrist, Brighton

Sarah adamson, St Albans

Roland Metcalf, Manchester, Academic

Colin Oakley, Castellon

Sam Page, Edinburgh, Vice Convenor, Yes for EU

Munro Ross, Inverness

Lesley Docksey, West Dorset

Gemma Young, Exeter

Timothy Oxton, Colchester

John Morgan, Grantham

Mike Yeadon, Witney

Clara Hayes, Exeter

Rob Gawthrop, Sheffield 

Alun Llewelyn, Harrow, Labour Party member and Unison

Neil Rhoden, Bristol

Anthony Varty, Lancashire  

J West, Edinburgh

Randy Banks, London 

Sue Mew, London, Labour Party and Unite Union 

Francois Duran, Newtownabbey

Jeff Jones, Moreton In Marsh

Monica Peyton, Brighton

Pamela Staley, Barnsley, Labour Party and NEU

Cliff Haynes , Ashford

David Madgett, Shepton Mallet

Sarah Early, Swanage, Unite

Robin Barrett, London, Trade union member

Juha-Matti Vuorinen, Bedford

Peter Morton, Exeter

Christine Davies, Firth, Orkney

Darren Caudle, Cardiff

Alison Emmett, London 

J West, Edinburgh

Liverpool, Liverpool 

Granville Stride  

John Airs, Liverpool, NEU, Unite Community Branch and Labour 

Jan Prince, Farnborough, Hampshire

Caroline Shelton, Gravesend, Kent 

Tom Climpson, Wargrave

Dr R G Portrey , Stockport , Labour Party member

Sue Pegrum, Northern Ireland

Jacqie Levin, Kernow

Diana Hughes, Sibford Ferris 

Dr. Birgitta Heiller, Sandown, Psychologist and Psychotherapist

Paul Biddlecombe, Brighton

Alexander Gavin, Pembrokeshire  

Gavin Edwards, London, Labour Party, UCU

Carl Caulkett, London

Kathleen Parker, Wirral

Duncan Morrison, Deptforrd, London, Branch Secretary, Lewisham NEU (p.c.)

Judith Gussin, Chipping Norton

Dave Jones, Lichfield, UK, Trade Union Lifetime Award

Paul Burgess, Newton Abbot

Nicky Bashall , Slaithwaite, Huddersfield , Labour Party member

Carolyn Phillippo, Swindon

B Studley, Exeter, 

David Hunt, Broadstone

Helen Coulson, Alderley Edge

Jennifer Godschall Johnson, Upper Clatford, Hampshire 

John Lipetz, London, Unite member

Raymond Mitchell, Aldershot

Dave Stephens, Cape Town

Patricia Chilton, Warwick

Sabine Ebert-Forbes, Keighley 

Barbara Clark, Swansea UK

Pam Wallace, Spain

Dave Anderson, Castle Caereinion

Michael O'Hagan, Bristol

Paula Strelczak , Hailsham  

Ivars Plucis, Colchester

Eirug Griffiths , Pontardawe  

Kathy Tomany, Twickenham 

Jane Brettle, Edinburgh

David Cavers, East Linton, East Lothian

Astrid Brown, Southsea, Trade Union member

Chris Harrison, Nottingham

Diana Parry, Norwich

Malcolm Pither, Seaford, East Sussex

Stanisław Raychell, Bristol

Rachel Boulton, London , Labour Party member

Andrew Blewett, Exeter, PhD student, Wageningen University, NL

Diana Park, Nantwich, Labour Party Member

Stanislaw Raychell, Bristol

Eva Langrock-Bircher, Gloucester

Fionna Wire, London

Marcus T Armes, Norwich 

Liz Dixon, Norwich , Green Party Member

Keith Hayward, London 

Stephen Wood, London, RMT, Labour Party 

Stewart Taylor, London

Chris Eilbeck, Edinburgh 

Stephen Philpotts, Basingstoke, Green Party

David Matsono, Chingford, Labour Party 

Kila Millidine, Haverfordwest

Rachel Hubbard, Carlisle

Yvonne Davies, Oldbury, Labour member

Karen Yarnell, London

Fionna Wire, London

John Wilmington, Wigan, Labour party

Fionna Wire, London

John Wilmington, Wigan, Labour party

C L Wardell 

Mark Lansbury, Hampshire, ALPA

John Pusey, Oxford

Bridget Penhale

Anna Beria, Bath, Translator

James Jacobs, Beeston, Nottinghamshire

David Williams, Dolgellau

Alan Mclellan  

Peter Barton, Dorchester

Cherry Lavell, Polegate

John Phillips, Morpeth

Tony Rose, London

Catherine Margham, Knaresborough, Unison member

J. Beaumont, Cardiff Wales, Doctor

Roger Carruthers, South Wales

Pamela Barrett, London

Nicholas Cox, Stanstead Abbotts, Green Party

John Lander, Marbella

Ivor Thomas, London

Colin Shepherd, Edinburgh  

David Shevels, Glenrothes, ex Liberal Democrat Councillor

Phyllis Styles, Sheringham

Patrick  Cornwell, High Peak, Unison member, Labour Party member

John de Carteret, Hope Valley, Derbyshire

Anastasia Scrivener, Bury

Amanda Coppard, London 

Sarah Gosling, Transsexual Rights Activist

Danny Brown, Manchester

Linda Reilly, London, Community Member Unite

Fionna Wire, London

Stephen Lupton, Leeds 

Paul Grover, Halstead

Caroline Anstey , West Yorkshire 

Johnny Finnis, Herne Bay

Charles Tan, London

John Sullivan, Edgware  

Jamie Taylor, Edinburgh 

Anna Jeronymides, London 

Jean Churm, York

Lynda Spence, Northern Ireland 

Anthony Short, Reading, Musicians' Union member and Labour Party member 

Chris Miller, Oxford

Eileen Penmanll, Edinburgh

Annabel Faraday, Hastings 

Dr John Leach, Bath

Eileen Penman, Edinburgh

Stephanie Tailby, Bristol

Barry Fountain, York

Paul Edmund Wyatt, Derby 

Bernadette Bonner, Leeds

Linda Goldsmith, London

Mike Dolan, Northwich

 Barry Fountain, York

Maire Smith, Cannock 

Clive Lindley-Jones, Oxford, Health Professional

Lee Brayshaw, Coventry 

Dick Hunter, York

Margaret Lynch, Braintree,  UK Labour party

Kevin Flint, Chesterfield 

Stirling Smith, Bolton, Ethical trade expert

Mike Breakell, Chipping Norton

Richard Boulton , London

Annie Simon, Swindon

Frank O'Hanlon 

Jean-Paul Dervley, Weymouth 

Andrew Coates, Ipswich, Chair of UNITE Branch. LE/1460

Councillor Mike Roberts, Aldershot

Colin Shepherd, Edinburgh 

Gary Hunt, Sheffield

David Bryan Payne, Broxbourne, Liberal Democrat Activist

James Wyllie, Durban 

John Hollis, Swindon

D McNamara, Reading, Co-Chair, Green Left

Chris Hamilton, Randalstown

Daniel Martin, Perth Australia 

Susan Mayhew, Hampshire 

Andy Brice, Llandovery

Jane Thompson, Brockenhurst

Jim Denham, Birmingham, Selly Oak Labour Party, Unite

Jane Fieldsend, Norwich

Rev Simon Wilson, Heacham, Norfolk, Liberal Democrat

Deborah Cunliffe, Rowde,Devizes

Graham Allum, Tiverton

Geoff Lamb, East Grinstead

Chris Barker, Hornsey, Hornsey and Wood Green Labour Party

Richard Ridings, LondonMax Loxterkamp, Bristol, 

Ian Morton, Sheffield

Stephen David, Leeds

Paul Ryder, Cheltenham 

Maria Davies, Manchester 

Richard Spicer, Bedfordshire 

Ginette Markwick , Cambridge 

John Garrett, Coventry

Alexandra , London, Mediator and trade unionist

Hong Luo, York, TSSA and Labour Party

Josiah Mortimer, London, Co-Editor, Left Foot Forward

Joan Stewart, Oxford, NHS campaigner

Ginny Lee, Plymouth, Devon

Rob Devenish, Dover

Bryan Schram , Milton Keynes, NAHT   Headteacher (retired)

Konnie Lloyd, Nottingham

Peta Lunberg , Surbiton

Kim Whitworth, Peterborough

Shaun Coster, Shrewsbury

Malcolm Harrison, Gateshead 

Janet Leedham, Horncastle

Ali Day, London

Peter Hurst, Edinburgh

Elizabeth Hanson, Bracknell 

Holly Walton, Aberdeen, SNP Member

Jane Schoelkopf, Dartford, Green Party member

Nicholas Dakin, London

Andy Smith, Warwick

Edwin Brown, St Albans, Hertfordshire, Retired teacher

John Gatehouse, Llucmajor

 Brian Evenden, Essex, Ex Trade Union member retired 

Derek Bell, London

Colin Appleby, Washington, Labour Party member for many years

Iain Richardson, Bristol

Brian Preece, Stockport, UK, Campaign Coordinator, Cheadle CLP

Shirley Vanessa Simms, Arbroath

Simon Carruth, London

John Penn, Solihull 

Lorraine T Grisedale, Lancaster 

Jan O'Malley, London, Labour Party

Robert Pearson, Wirral 

Helena Peltonen-Gassmann, Hamburg

Jeff Buck, Nottingham

Alistair Price, Eye

Alison Storer, Ilkeston 

Matt Chamings , Barnstaple

Craig Lewis, Glasgow, Unite

Karen McCarthy , Manchester 

Lorraine Mccoll, Hamilton, SNP member

David Honour, Huddersfield

Colin Roth, London

John Green, Chester 

Garry Saunders, Ramsgate, UNISON member, Green Party member and Chartered Safety Practitioner.

Jane Wheeler, Bale

Gordon Mulholland, Glasgow, Scotland

Belle Claudi, West Linton 

Dean Jason, Westcliff on Sea

Ben Taylor, Seaford, Activist European citizen

Rebecca Pearson-Close, London, 

Phil Clarke, Nuneaton, Labour Party member

Jonathan Bate, Eccles, Teacher

David Corrigan, Gillingham

John Dunne, Wakefield

David Headon, Canterbury

Elizabeth Beech, Wirral Merseyside 

Paul Openshaw, Eastleigh

David Margolies, London, Professor Emeritus, Goldsmiths

Jenny Budd, Bristol

Rachel Hope, Sheffield

Malcolm Smith, Gabian 

Gabrielle Moniz, London 

Kim Davies, Durham

Paul Hunt, Filey

Heelah Schoham, Berlin 

Duncan Toms, Machynlleth 

Malcolm Clark, Harrogate

Vanessa Baird, Oxford, NUJ

Margaret Le Messurier-Ritchie, New Mills 

Madeline Nestor, Middlesbrough

Caroline von Taysen, Berlin, Clinical Psychologist 

Alfred Gliddon, Bristol, NEU

James Nye, East Cowes

Sarah Cooper, Brighton, Labour Party

Andrew Zielinski-Raynor, Nottingham

Kristin Tunley-Smith, Cheshire

Sandra Stack, Lampeter 

José León, Shoreham by Sea

Liz Dixon, Norwich , Green Party Member

Rosamond Tharp, Diss

Sacha Marten, Tonbridge, CLP VC Membership and LGBT Officer

Karen Scott , Caerphilly 

David Southcombe, Kelso

Martin W Huxley, Weston-super-Mare

Sacha Marten, Tonbridge, CLP VC Membership and LGBT+ Officer, candidate for Young Labour NC Student Rep

Carol Westall, Allendale 

Peter Cullen , Falkirk 

Paul Hunt, Filey

Paul Manley, Bristol 

Steve Angove, Dawlish, Devon 

Eluned Owen, London

Paul Batty, Pontefract 

Roger Legg, Malmö

David Maslin , Wolverhampton 

Ruth Bradshaw, London, UK, Former workplace trade union rep

John Buckell, Northampton

Danny Brown, Fleet, Hampshire  

Bernard Forbes, St Albans

Norman Traub, Leigh on Sea 

Paul Dey, Leicester

Stephen Puddephatt, Newark, Retired Teacher

James Cummings, Dawlish

Glenn Smith, Liverpool, Trade Unionist

Andrea Slater, Norwich

John Logan, Wigan

Julie Hudson, Gloucester, Liberal Democrat

Jo Brown, Isle of Wight

Emma Overington, Poole 

James Carr, Southampton 

Brian Clark, Brighton

Christopher Corr, London 

Al Macdonald , Dorset

Peter O'Garr, Edinburgh 

Mary Talbot, Sunderland 

Tessa Ryan , Brussels, Belgium

Monica Ayliffe, Richmond , Labour Party 

David Blackman, Headington, Oxford, Labour Party member

Dave Newbury, Filey

Richard A Edwards., Mile Cross Estate, Norwich 

Tim Shelton-Jones, Brighton

Sandra Hawke, London, Retired charity CEO

Lenore Abramsky, London

Pete Samways, Leeds

Richard Harman, Nailsea, European Movement

Adrian Finney , Southend on Sea 

P morgan, Paignton

Neville Jones, Liverpool 

Marie Shrewsbury, Leeds 

Mavourneen Burrows, York 

Rob Bray, Argyll, UCU

Seb Thirlway, Newcastle, Labour member

Martin Burrows, Bordon

Brendan Donovan, Glasgow, UCU member

Rowan Adams, Ventnor

Mairin Valdez, Reading 

Richard Young, Weston-super-Mare

Sarah Moliver , Cheltenham

Chris Evans, Bristol

Judy Mason, Shipston-on-Stour

Denis Gallagher, Blackpool

Keir Simons, London

Caroline Brown, Brighton, Brighton and Hove Liberal Democrats

Liam Smith, Plymouth 

Adrian Lea, Penicuik, Midlothian

Paul Bradley, Poulton le Fylde

Annette Kelly, Harrow

Gill Packard, Ipswich 

Danny Brown, Fleet, Hampshire 

Professor Derek Gould, Liverpool

R C P Wells, Stourbridge

Denise Ireland, Manchester, 

John Barber, Hampshire, 

Bernard Kilroy

Julie Wintrup , Newbury Berkshire , Policy Officer and Co-Campaign Officer Newbury CLP

Valerie Briginshaw, Chichester, Green Party

Judy Steele, Leamington Spa

Margaret Smart, Darlington 

Rhys Carter, Wrexham

Angela Singleton, Preston

Patricia Snow, Dingwall 

Ben Fisher, Leeds

Paul Harrop, Watton-at-Stone 

Hilary Fraser, Bath, Labour Party and NEU

Christopher Brockwell, Bexley

Jonathan Bate, Eccles, Teacher

Jackie Watkins, Rochester

Roger Distill, St  Albans 

Dermot Murphy, London

Stephen Watts, Horsham, Member of Unison 

Ray Aplin, Morpeth

Peter Fletcher, Ipswich

Cam Hamilton, Hamilton, Scotland, Scottish Greens, Unite the Union

Ian Halverson, Bristol

Liz Dias, Whitehaven 

Suzanne Battison , Southampton 

Maria Malson, Salisbury

Peter Malson, Salisbury 

Nick Langley, Cambridge 

Julian Dunn, Great Haseley 

Dr Jonathan Price, Huddersfield, University of Leeds

Francisco Garcia, London

Claire Francis, Corsham

Laura PHELAN, Shoreham by Sea 

Mary Barker, Barnsley

Geoff Humphrys, Hamburg 

Daniel Johnson, London

Ron Pratt, Stone

Ian McLaren , Largs

David Terry, St. Helens, Labour Party Member

Steve Strong, Bristol, Trade Union member

Irene Norman, Conwy N Wales

Gavin Nixon, Belfast, Northern Ireland

C Critchley, Stockport

Steve Sherrell, Dartford 

Susie Hewson, Bristol

Richard Songhurst, Maidstone 

Michael Grindley, Huddersfield 

Ruth Bell, Leeds, Labour Party

Phil Baptiste , Leeds

Don Manhire, Colchester 

Mark Tiernan, London

Cliff Haynes , Ashford

Paul Reddy, Welwyn Garden City

Catherine Wilson, Brighton 

Mary Taylor, Wirral 

Judy Douglas , Beckenham 

Harold Sawdon, Manchester 

Marcus Cross, London

Martyn Rose, Sheffield 

Julie Margaret Coulter, King's Lynn, GMB union / Labour Party member and activist.

Rosemary Stewart, Alicante  

Alison House, Cartagena

Mr J Bucke, Bridgend, Mid Glamorgan,Green Party

John Fitzmaurice-Greenslade, London, Public service worker; UNISON member; Labour Party member; lover of peace, kindness, justice and equality

Joanna Hughes, High Wycombe, 

Gavin Edwards, London, Labour Party, UCU

Kathryn Robinson, Middlesbough , Labour unison

Liz Kirby , Chorley

Kim Allen, Bussiere Poitevine 

Jenny Powell, Radcliffe, Manchester

Angi Driver, London

A. Hillman, Guildford

Marion Weston, Leuchars

Rowena Foote, Norwich

Gill Fernley, Bolton

Jeff Henry, Leicester 

Thomas Aubock, Vienna

Les Webb, Leeds

Denise Ireland, Manchester

Martin White, Tenby

Alexander Blackburn, Hemel Hempstead, Trade union member

Sam Darby, Manchester

Les Webb, Leeds

David Lunn, Halifax 

Peter Short, Nottingham, Unison member

Emilio Terol, London 

Clive Parker, Shoreham-by-Sea 

Cynog Dafis, Ceredigion

Michael Laycock, Southampton

Liz Meynell, Penrith

Maria Carmen Garrido Montoya, London 

Paul Kirsch, Ashford

Stephen Armstrong, London, Retired Headteacher

Jean Blaylock, London 

Kate McNally, St Saveur de Montegut

Christiana Watson, London

Michael Picken, Paisley, Scottish Socialist Party member

Lucy Howson, Barnsley

John Huws, Bangor

Jane Goddard, London

Christopher Rogers, London, Labour party member, Anti brexit campaigner

Matt Sawyer, Beckenham, Trade union member

Shaun Peter Edgar, Chippenham

Dr Ian A Parker, Manchester, Manchester Withington Labour Party 

Andrew Rylah, Codicote 

Katrina Walker, Livingston  

Tony Fisher, Nottingham

Stephen Flaherty, Nottingham

Scott Birnie

Shirley Tunley, Bow Street near Aberystwyth

Agnes Javor, Bath

Mark Stevens, Nottingham, SNP, CWU. 

Elina Rantanen, Aylesbury

Jim Ross, Turriff

Sarah Vernon, Bembridge, Isle of Wight

Nigel Harris, Brighton

Undine Downie, Durness by Lairg

Patricia Anne Humphrey, Wooler

Neil Wilson, Millom, Teacher

Lee Thornhill, Colwyn Bay

Jacqueline Kirwan, Wellington

Sambrook, Stoke-on-Trent

Eric Davies, Broadstairs

Rosalynne Birch, Oldham, Labour Party 

Simon Clark, Retford

Jon Bloomfield, Birmingham

Stephen Lee, Hornsea

Josephine Williams, London

Alex Pryor, Tansley

Nile Nugnez, London 

Mike Taylor, Leiston, Labour party

David Farley, Bournemouth 

Mary Flannery, Skipton

Marie Milburn, Easingwold, York

Deb Frost, Bognor Regis

Sandy Paul, London, Labour Party 

Jutta Christian, Cardiff, 

Nicola Ford, Leeds

Steve Boyd, Oswestry, Chair, Montgomeryshire for Europe

Daniel Oliver Lauchlan Key, Bristol, Bristol East Labour Party

Deirdre Diggins, Maidstone

Agnieszka Kucharska, Dunstable

Kirsty Ogg, London

Mark Jones, Rushmoor

Pat Devine, Manchester UK

Tricia Dawson, Irthlingborough 

Moshe Mankoff, Gateshead 

Laurence Bell, London', Former university academic

Arie Vanderwyst, London, Artist

Dr Paul Tanto, Twickenham

Emma Hawes, Chester

Linda Foster, Wembley, 

Trevor Barratt, Bournemouth 

Michael Sidaway , Bacton, Norfolk, RMT

Tim Beecher, Brighton

Francine Grant, Hove

Sue Kilgallon, Stockport 

Jude Huntley, London

Ruth Penny, nr. Driffield

Peter Wright

Ian Lebeau, London

Ben Towse, London, co-founder, Labour Campaign for Free Movement

Hilary thomas, Ammanford

Edward Grocott, Liverpool

James Bramwell, Beckenham

Wendy Boothman, Huddersfield 

Patricia McLoughlin, Leeds, Labour Party member/Trades Union member

Gerald Saunders, Nottingham

Tony Papard, London

Susan Pashkoff, London

Michael Lewis, Gainsborough

Eric Chipulina, Bury St. Edmunds 

Mandy Gibson, London

Hannah Smith, Wellington, New Zealand

Kayla-mae Beckett, Newcastle-Under-Lyme 

Heather Clark, Edinburgh

Janet Marks, London

Pat Curtis, Castor

Alexandra Liava, Verbania

James Catmur, Sandy

Deirdre Schnaar, Crawley

Maureen Watson, Barrow in Furness

Christopher Ford, London, Ukraine Solidarity Campaign 

Stephen Pollington, Cockermouth

Ian McHugh, Sheffield

Susan Dorrell, London 

Anne Sadler, Belper

Nick Evans, Sheffield, UCU

Helen Kummer, Totnes

Simon Briggs, London 

Moira Cunningham, Scarborough

Lorrain Baggaley , Chichester

Mike Dearing, Beaconsfield

Jeff Henry, Leicester

Liam McQuade, London, Bethnal Green and Bow Labour Party

Mary Crick, Cranbrook 

Annabelle Shaw, London, Member of UNITE and The Fawcett Society

Pauline Dete, Doncaster

JJ Clarke, London 

Steve Rouse, Swindon

Neil Rogall, N176LB, UCU (retired)

Alyson Lewin, Stafford 

Eunice Gilks, London 

crispin weir, London

Jenny Lennox, London, NUJ, Unite and Labour Party

Howard Roberts, Twickenham 

Helen Shipley, Peacehaven

Stan Crooke, Glasgow, GMB and Unite member

Pauline McGovern, Chorley, Doctor, research consultant to civil society organisations

John Williams , Coventry 

Julius Ramos Payo, Malaga

Claire O'Kell, York, UK

Michael Wells, London 

William Durno, Westhill 

Jeremy Bartlett, Norwich 

Prue Lambert, Exeter

John Finagin, London, Retired teacher

Oleg Vernyk, Kyiv (Ukraine) , A Head of All-Ukrainian independent Trade Union "Zakhyst Pratsy" (Defence of Labour) 

Robert Proctor, Cambridge 

Richard Green, Stirling

Omar Raii, London, Lewisham Deptford CLP

Bob Lee, Melay, France

Steve Chapman, Sheffield, Unite the Union, Sheffield Heeley Labour Party

M Driver, Poole

Howard Charles Wrigley, Oldham 

Liz Martindale, London, Trade unionist,  Labour party member

Cllr Chris Burke MBA, Lincoln , Executive Member City of Lincoln Council (Labour)

Adrian Sargood, Exeter

David Hahn, Hayes

Dave Merrett, York 

Jennifer Couture , Burgess Hill 

Janet Couture, Burgess Hill

Anthony Short, Readingj, Musicians' Union member and Labour Party member 

Michael Edmund Fletcher, Birmingham

Zoe Gardner, London

Glenys Gill, Osterholz-Scharmbeck, journalist

Frances Crane, Coventry, TU member, LP member

Philip White, Sheffield

Jude Stratton, Oxford 

Carolyn Sutton, Glastonbury

Kathleen Burley, Barnsley

Larry Sanders, Oxford

C.J.Hollinsworth, Edinburgh

Linda Bailey, London

Mr Gareth J Daniel, London

Alison Northway, Sutton

Margo Sheridan, London

Andrew Kilmister, Oxford , Editor, `Journal of Contemporary Central and Eastern Europe'

Jo Selwood, Oxford

Christopher Mark Smith, Darlington

Eunice Gilks, London 

Liz Fisher, Sheffield

Rick Gaehl, Totnes, Secretary, Totnes CLP

Suzanne Philipps, Frome

Nick Rowland, Hastings

Judith Ryan, London

Helen Alipaz, Dartington, Labour Party Women's Officer 

Colin Luker, Totnes

Janet Patience, London

Ann Jefferson, Oxford

Chris Fryatt, Brugge

Silvia Fabbri, London 

Kelly Rogers , London, National Education Union workplace rep

David Bailey, Dawlish 

William davies, Darwen 

Greta R.Palmer, Labour 

Simon Jones, Oxford

Peter Bell, Newcastle on  Tyne

Greta R.Palmer, Labour 

Sylvia Scaife, Ipswich 

Gordon Watson, Hunwick

Carol Ann Hudson, London

Keith Heaven, Canterbury, Town Councillor, Sandwich, Kent

Juliet Kirkwood, London

Pat Walmsley, North Somerset, Community volunteer

Marian  Blaikley, Manchester

Lorna Reith , London 

Nigel Jones, Crewe 

Aaron Davies, Bristol 

Penny Woolcock, London

Hilary Beach , Chepstow

Tony Harries, Newquay, Labour Party Member

Craig Mcgee, Epsom 

Marc Owen, Essex

Catherine Maxine Fox, Wrexham, Socialist 

Susan Hanbury, Wales UK, Labour Party member and socialist

Chris Billing, Brixham, UK

Barry Mahar, Somerset 

Ruberta Bisson, St Neots, Labour Party Member, Huntingdonshire CLP

Martin Horan, Manchester

Jennifer Allan, Green party member

Alison Kincgy, Nottingham 

Caroline Cattermole, Lancaster, Green Party, Extinction Rebellion

Simion Calcev, High Wycombe

Brian Keeping, London

Gill Godfrey, Plymouth

Janet Russell, Silsden, Keighley, Green Party

Harry Pitts, Bristol

Ian Aldridge, Burnham on Sea

Kevin Burke, Stoke-on-Trent

Tim Parsons , Bexhill-on-Sea 

Thelonious Switzer, London

Martin Wiltshire, Swindon, Engineer

Carl Gardner, London, Labour Party member

Philip and Ross Luckham-Bulmer, Torquay, MHCIMA

Iain Fergus, St Andrews

Carolyn Turner, Bath

Chris McCusker, Glasgow, SNP Trade Union group Membership Secretary and Vice Convener SNP Socialists

Simon Garrett, High Wycombe

Paul Browne, Liverpool

Rayah Feldman, London

Stewart Eames, Cambridge, Labour party

Patrick Moore, Crosby

Roland Kemp, London 

Svenja Helmes, Sheffield 

Dora Polenta, Nottingham, LGBTQIA+ Officer of Rushcliffe CLP

Barrie Hemley, Orihuela Costa Spain 

Philippa  Drew, London

Paul Southcott, York

David Platt, London 

Gwyneth Spadaro-Dutteri, St Julien de Jonzy, France

Brian F Shaw, Moreton, Labour Party Supporter

Ruth Tetlow, Birmingham

Kevin May , Darlington , Labour Party 

Christopher Maris, Bristol

Jasmine Mathieson, Winchelsea beach

Jill Azzouzi, Liverpool

Irmgard Hueppe , Oxford  

Natalie Katharina Jarnstedt, Greenwich, United States of America

Andy Terry, Stoke on Trent

Greer Ashton, Cos Cob,  USA

Maureen Gallaccio, London

Bob Smith, Manchester, Labour Party, Cooperative Party

Martin Walker, Wardle, Rochdale

Giuseppe Tomaselli , Bexleyheath 

Karen Archer , London , Labour Party 

Jane Caplan, Oxford

Brian Gillies, Corby 

Marilyn Solomon, London 

Adetayo Solomon, London 

Kate Lewis, Norfolk, Unite the Union

Michael Hodgkinson, Sheffield

Dr Julian Malcolm Gray, Bromsgrove, MPU/Unite

Sarah Cohen, Lower Moor  

Alan Wheatley, Hereford

Richard J Cork, Worcestershire, Retired trade unionist

John Charlesworth, Nottingham

Peter Brander, Deal 

Ruth Chidlow, Chester

Helen John, Swansea 

Colin Barber, Carnforth, Lancashire

Patricia Howarth, Plymouth

Katie Eleri Pritchard, Leighton Buzzard

Gary McGuinness, Cuzion

Cair Ni Caidlag, City of Edinburgh

Kimberley Thomas, Tewkesbury

Nina Manners, London

Mrs PMF Bosworth, York 

Fiona Urquhart , Luxembourg, Labour International and LSAP member. Trade Union member

Iain Leitch, Glenrothes

Marilyn Zanconato, St Ives Cambs, Marilyn Zanconato Labour Party member

Margaret Thomas, Huddersfield

John Smith, Barnsley, Labour party

Diane Ridgley, Bury St. Edmunds

Vicky Seddon, Sheffield

John Bond, Oxford

Francesca Tessari, Welwyn Garden City

Marilyn Zanconato, St Ives Cambs, Marilyn Zanconato Labour Party member

Anita Ponari, Arezzo, Italy

Burkhard Kloss, Welwyn Garden City

Steve Chapman, Sheffield, Unite the Union, Sheffield Heeley Labour Party

Meg Spreckley, York

Martin Page, London 

Dave Garry , Wirral

Roger Horne, Harrow

Mark Langdon , Glasgow , The SANE Collective

Toby Sparks , London 

Niccolo Milanese, Paris, Director, European Alternatives

Brian Edwards, Potters Bar 

Janet Edwards, Potters Bar

Marlyn Leese, Minchinhampton

James McAteer, Keele 

Wendy Berentsen, Barnard Castle, Green Party member

Roland Rance, London 

Jayne Carle, Harrogate

Stefan Grindley, Kings Heath

Jutta Grimmer, Norfolk

David Hawksworth, Bradford

Jonathan Hodgkiss , London 

Peter Mason, Bristol

Dorian Robinson, Harrogate

Claudine Rebersat , Edinburgh

Paul Gouge, Harefield, Uxbridge 

Mark Morgan, Fareham

Irmgard Hueppe , Oxford  

Warwick Evans, Reading 

Ilona M Bryan, Dudley

Julie Hunter

Sandra carpendale, Northampton

Inbar Tamari , Walthamstow , Hackney NEU International officer (pc)

Jonathan Wickens, Nottingham

Vicki Frost, Rawtenstall

Anita Roy, Ripon

Adrian Bunting, Cahagnes, France, Retired member of NEU, Member of UK Labour Party.

Laurence Malt, Manchester

Kathryn Fox, Wells, Somerset

Andy Wilson, Rottingdean

Camilla Ween, London, Urbanist

Martin Balodis, London

David Taylor-Gooby, Durham, Labour Party Member

Maureen Taylor-Gooby, Durham, Labour Party member

Alison Kincgy, Nottingham 

Jane Thompson, Brockenhurst

Heather Grinter, Bradford

Stephen Ian Hawkins, Edinburgh

Jo Rose, Sheffield

Yvonne Forsey, Wiltshire

Jannet Mathers, London 

David Wain, Hayes, Middlesex 

Eleonore Kofman, London

Rob Gardiner, St Neots 

Andy Turner, Derby, Labour Party, ASLEF

Lynda Cook, London

Simon Hebditch, London

Jessica Norton-Hill, East Sussex

Paul Gilbert, Cheltenham

Eilidh Hodge, Stonehaven 

Yvonne Littlejohns, Rushden 

Paco Rivera, Newcastle Upon Tyne 

Rosalind Borley, London

Nora O'Hara, Pickering

John Percival, Perigeux 

Lesley Pavincich, London

Colin Huggett, Sale, Member of the Labour Party

Hilary Muray, Highlands

John Pickering

Lesley Barker, Villechien 

Chris Marks, London, PCS Union, National Executive Committee

Steve O-Neal, Devizes, Wiltshire , Secretary Wiltshire Palestine Solidarity Campaign 

Grietje Baars, London, UK, UCU, London Region and City Execs

Paul Homer , Eymoutiers France

Roger Pitman, Pentyrch

Lisa Kerr, Plymouth

Magda, London, Activist, FARSA – Feminist Society in Action

Neil Scott, Glasgow , Producer at leftungagged.org 

Jane Prentice, Kettering, Jane Prentice

Sylwia Grzybek , London , Feminist activist 

Jean Campbell-Leith, Ruthin

Heidi Holland, Brentwood

Peter Harrison, Leeds, CWU member

Dave Lukes, LONDON, Fixer-Maintainer

Lesley Daly, London, Retired

Dave Windett, Preston

Tarquin Grossman, Lewes

L Parry, Herts 

Emanuel Ferreira, London

Michael Cox, Harlow

Sharmayne Seepersad , London

Carol Milner, Coventry, PCS (ARMS member)

Dee Reynolds, Manchester

Timothy Mullen , Stoke-on-Trent 

Mel Holmes, Australia

John Christopher Kerr, London 

Christine Wardlow-Kaye, Peel Close, Heslington, York, Christine Wardlow-Kaye

Michael Rooney, Warwick

Anne Keeley, South London

Matthias Kispert, London

Dr Lynne Tammi, Montrose, Human Rights and Equalities Advocate

Craig Foster, Stafford

Elizabeth Slater, Dunfermline

Simon Orr, Reading

Angela Royston , London 

Veronika Coufalová, London, Student & Dance artist 

Mark Meekosha, Leicester 

Maria, Edinburgh

Mark Cronin, London

John Glaves-Smith, Stoke-on-Trent, Writer

Roy Collins, London

Alison Bomber, Waltham Cross 

Patrick Orum, Bristol 

Graham Martin, York 

Philip Atkinson, Manchester 

Clive Bridgeman , Gibraltar  

Brian Sadler, Wantage, Liberal Democrat

Keith Best, Leeds

Ailie Rutherford, Artistic Director of Feminist Exchange Network & The People's Bank of Govanhill 

Peter Lovett, Worthing

Isabel Newlands, Renfrew

Martin O'Hara, North Yorkshire

Sandra Roberts, London, Labour Party

Noel Hamel, New Malden, 

Paul Chilton, Hampton

Christopher Walker-Lyne, York

John Bryn Jones, Trelawnyd, Chair of Unite RM North West Wales

Faith Kenrick, Lancaster, Artist

David Fallon, Newcastle

Denis Watterson, Otley, West Yorkshire

Carole Wray, Cumbria, England

Bill Kaye, Leamington Spa

Kath Chandler , Cramlington,  Northumberland , Labour Party member

W Linham, Bath

Christine Ogden, London

Ralph Stimpson, Taunton 

Jane e Hale, Haslemere

Sharon Rosen, Measham

Greg Shreeve, London

Haulwen Tuck, Pencoed

Richard Burdett, London 

John Cunningham, Adlington, UCU (retired)

Nicky Whitehead, West Midlands, Member of the Labour Party 

John Howard , Hornchurch 

Charlie Casey , Plymouth

Judith Hible, Corsham

Stephen Broadhead, Liberal Democrat

Andrew Dimoglou, Colchester

Beverley Sinton , Leuven

Andy Richards, Hove, Hove CLP EC member, Branch Chair, Brighton and Hove Unison

Al Norman, Crediton

Yuliya Yurchenko , London, Ukraine Solidarity Campaign, Vice-Chair of the Critical Political Economy Research Network (ESA)

Peter Walker, London

Nicola Bindon, Bristol

Andy Richards, Hove, Hove CLP EC member, Branch Chair, Brighton and Hove Unison

John Middleton, Liverpool 

Dawn Judd, Preston 

John Boarder

Tom Millar, Hove

Alison King, Nottingham 

Anne Stubbs, Bolton

Martin Palmer, Orpington 

Stephan Natynczuk, Worcestershire 

Clare Lund, Hampshire

David DePoe , Toronto, Canada , Elementary Teachers of Ontario 

Andrew Loftus , Chesterfield 

Terry Bennett, London

Nigel Hicks, Milton Keynes

Sue Baxter, Wirral, Labour Party member

Kate Newton, Bristol
27th October 2020